Introduction
According to market research firm markletic, 39% of people who attended hybrid events say they felt not included in the event. Thus, one of the most significant flaws of many hybrid events is the neglect of the virtual audience. 
This article discusses concerns regarding attendees' access to social engagement/ networking opportunities during hybrid events. For example, 71.1% of event organizers say connecting the in-person and virtual audience is their biggest challenge (markletic). 
Yet, the coronavirus and recent successes in vaccine rollout make hybrid events the best ways to gather as much audience as possible. These developments are corroborated by the chart below, which shows the results when individuals were asked what type of event they would prefer to attend.
Let's discuss how to enhance attendee networking for successful events
1. Networking opportunities for hybrid events
While networking can happen naturally in person, networking among virtual attendees requires some effort to achieve. Thus, organizers face the challenge of satisfying both the virtual and in-person audiences during a hybrid event.
Yet, there are great benefits you can derive from enhancing attendee networking, especially now that hybrid events have become the new normal. Read on to see how you can improve social engagement among virtual and live participants and between them and how this can boost your return on investment (ROI).
2. Give your attendees a chance to select their sessions
One of the best ways to encourage audience participation is to give attendees a chance to choose their sessions. Create a robust and diverse plan, providing all participants an opportunity to select the sessions they like best. If people are given choices, they are more likely to look forward to the sessions being offered.
3. Encourage conversation
While there are several ways to boost social engagement at your hybrid events, one of the simple ways to do this is to encourage attendees to dialogue and network. For example, you could briefly discuss the benefits of networking just before dedicated networking sessions- to get in attendees who would otherwise be standoffish during these types of sessions.
Right from the event planning stages, ensure that provisions are made to incorporate networking and community engagement. In addition, there is the need for you to know your audience and segment engagement opportunities as and when necessary.
Put in the effort to identify the interests, needs, and pain points of attendees. Having done this, use this knowledge to segment attendees into groups based on networking and other engagement sessions to ensure they get the most out of these groups. Look at the scope of event attendees from their registration profiles and break them into industries, niches within an industry, interests, passions, and more. Thus, you also get to help sponsors and partners access their target audience and increase their Return-on-Investment.
4. Introduce Artificial Intelligence (AI)-powered matchmaking
AI-powered matchmaking uses Artificial Intelligence to connect attendees who have similar interests or needs and enhance event networking. It works by using attendee profiles to segregate and link attendees based on their interests. It recommends like-minded people to each other. As an event organizer, you can use the resulting sorted and grouped data to boost marketing campaigns and help sponsors and individuals reach attendees with specific interests or demographics. This highly efficient way of sorting data saves you and attendees from having to sort volumes of data to make a decision or to network with like-minded individuals-respectively.
5. Leverage gamification
Gamification is yet another innovative tool you can use to engage attendees and connect the two audiences. Gamification is a system used to increase user interaction on a platform by solving non-game problems using game elements. Examples of these platforms can include your website, event apps, and more. For instance, on a platform familiar to both audiences, you could integrate Virtual Reality or Artificial Reality games to engage and connect the two audiences.
With gamification, you let users gain points by engaging with your event app, website, or social media platforms and reward top scorers. This activity arouses attendee interest and increases networking between/among attendees as they compete and interact while having fun.
6. Leverage event technology
Event technology is indispensable in hybrid events- as it allows you to personalize and customize attendee experience. It would be best to add a chat function on your event platform to simultaneously allow for interactions among and between the live and virtual audiences.
Let event moderators and emcees pick a few chats and mention them on the central event platform. This mention encourages attendees to use the chat function and keeps them engaged. In addition, group discussions in breakout rooms and digital kiosks connecting in-person and virtual attendees help create face-to-face interaction opportunities.
Event technology can make life easier for you- the organizer, your sponsors, and your partners. So, how well are you doing with event technology? The image below may help you see how well you are doing depending on how comfortable you are with current and emerging event technology.
7. Create networking lounges and virtual networking tables
In hybrid events, the virtual audience needs much attention. To allow the virtual audience to network among themselves, create real-time discussion groups meant explicitly for them. Networking lounges and virtual roundtables enable event attendees to have discussions via live video/audio chat functionality. Video chats help bring people together. Doing these helps bridge the gap between the effectiveness of in-person events and virtual event networking.
8. Event apps are great tools for networking
Event apps can be designed to allow attendees the opportunity to message each other before, during, and after events. However, it's recommended that you incorporate features that allow for ease of networking among attendees.
Consider adding a discussion board, photo sharing, social feeds, live polls, and gamification feature that have all been centralized to both the live and virtual audiences. Having a direct chat or messaging feature on your app is not enough. Go ahead and let attendees know that these features exist on the app. Further, ensure that the app is safe and secured for information transfer.
9. Allow for virtual exchange of business cards
Allowing attendees, exhibitors, and sponsors to exchange business cards virtually helps connect people to foster great and relevant connections. In addition, this helps build relationships between live and virtual attendees
10. Add virtual attendees to breakout rooms
During breakout sessions or activities, ensure that both in-person and virtual audiences are present. Blended roundtable discussions and a live chat that flows through a centralized system are a great way to achieve this. 
Here, you can use a technology similar to what you use for the main event. If breakout sessions require the use of swag bags or you would share gift boxes, send them to your virtual audience ahead of time, so they have it with them during the event. This particular feature keeps them involved and willing to participate in all events- including chat, live polls, and networking activities.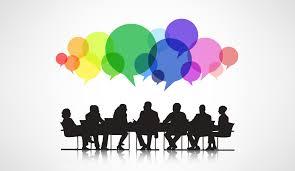 11. Leverage social media 
Social media platforms like Twitter and WhatsApp are platforms where your live and virtual audience can connect and engage with each other- even while the event is still ongoing. It is a great idea to create a hashtag for the event or a WhatsApp group for all participants to allow for this interaction. (eventmanagerblog)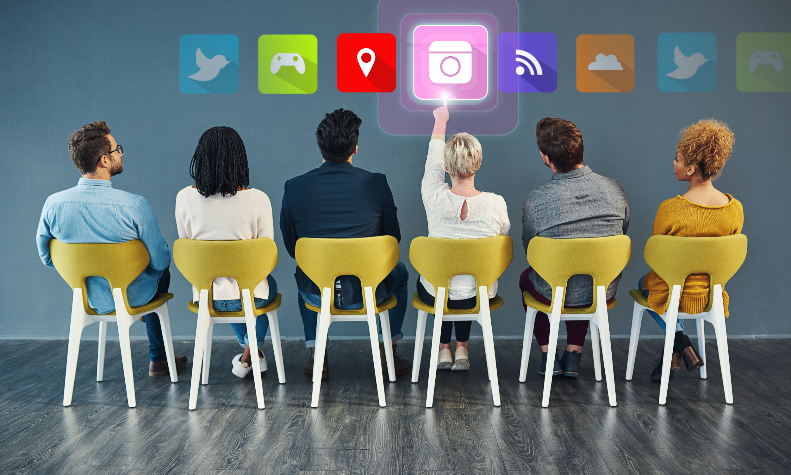 You could also add a social media wall, where selected social media feeds are shared with both audiences. For example, you can show feeds to the in-person audience using a large screen placed at the venue and then show feeds to the virtual audience at a corner of their screens. In addition, comments from attendees can help individuals see like-minded attendees and connect with them. 
12. Leave transition times between sessions
During meetings, your physical attendees can spot physical cues like smiles or even interesting conversations between other participants that help them connect and network efficiently. For a virtual audience, such inviting signals are mainly absent. Allowing for about five minutes transition time between sessions enables virtual participants to engage each other in other conversations and, if necessary, visit the washroom or stretch out a bit before the next session.
13. Do a leaderboard challenge:
Offering a raffle or a donation to a charitable cause and track the progress of contributions throughout the event. A leaderboard challenge is a great way to get everyone involved, even those who attend virtually. (CNTVnow)
Conclusion
As mentioned above, hybrid events come with their challenges. We have seen that one of these challenges is how to facilitate connections and networking opportunities between participants. Of particular concern is how to bridge the gap between the live and virtual audience- to allow for interactions between them.
Marketers are finding increasingly creative ways to connect their audiences. Having various technological options and traditional means to spark conversation and engagement is an excellent opportunity for event organizers to think outside of the box.
The 13 ways to increase social engagement at your hybrid meeting mentioned above are great ways to engage the community.