To mark a moment of innovation and growth, we at Eventscase, one of the main providers of event tech solutions and services worldwide, are launching our new brand.
The visual identity marks a new phase in the company's trajectory, one of accelerated and sustainable growth.
Creative Concept
The Multiverse
Cosmologists say this is the concept of the multiverse: the sum of all the universes that might exist. In times when more layers of virtual stack upon reality, it doesn't matter if events are virtual, in-person or hybrid: we want to be the trusted advisors taking your connections further and making your ideas possible in all of these universes.
Tagline: Always aiming higher
It took months of studies and research to develop the message to be conveyed by the new brand. Our company relies on its name and brand to reflect the following business attributes.
Committing to success
Walking by your side
Building on solid ground
Aiming high
After all, those are the benefits that help build relationships with you, our valued customers and partners.
Design: Colours, Typography & Symbol
Younger and more connected, the typography of the new brand presents fluidity, clarity and legibility, with a bold and forefront design. The "E" symbol, on the other hand, offers elements with reference to agility, efficiency, technology and transparency.
The light blue was replaced by a new colour scheme that accurately expresses the Agile processes implemented by the Eventscase: corporate, innovative and empathic.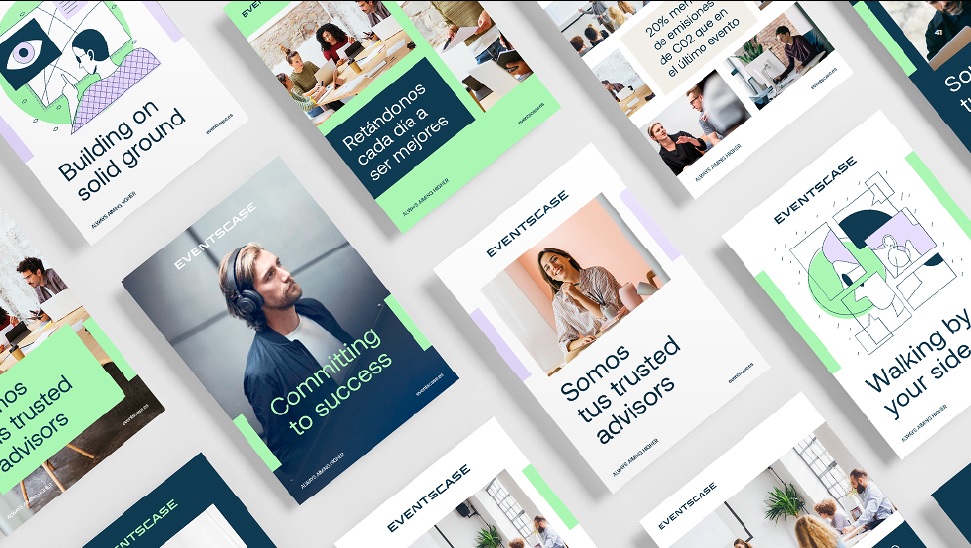 Evolution in our technology from the inside out: the CTO's journal uncovered
It's not all about revamping our new look and feel. As a tech company, we knew that the most significant changes had to come from the inside.
"After the pandemic, large customer projects came to a halt. So, the most important thing at the moment was to be able to increase our capacity for innovation and adaptation to the market. That was the only way to keep offering a useful product to our customers." That's how our CTO, Ivan García, stated the most burning challenges faced from 2020-2021.
He continues: "Thus, we invested the first months in adapting as quickly as possible, with success, but as the months progressed, it became clear that the needs of our clients were not compatible with the technology stack that we had available."
Therefore, we decided to invest in making this technological change with the aim of:
Boost the quality of our product and our competitiveness
Being able to scale the team quickly, now and in the future.
Increase development speed and decrease delivery cycles.
Bulletproof the reliability and resilience of systems
New Pricing and Subscription Model
We're also releasing our new subscription business model. It's been developed to continuously solve the specific needs of each segment of the events market. Our first four main packages are already available: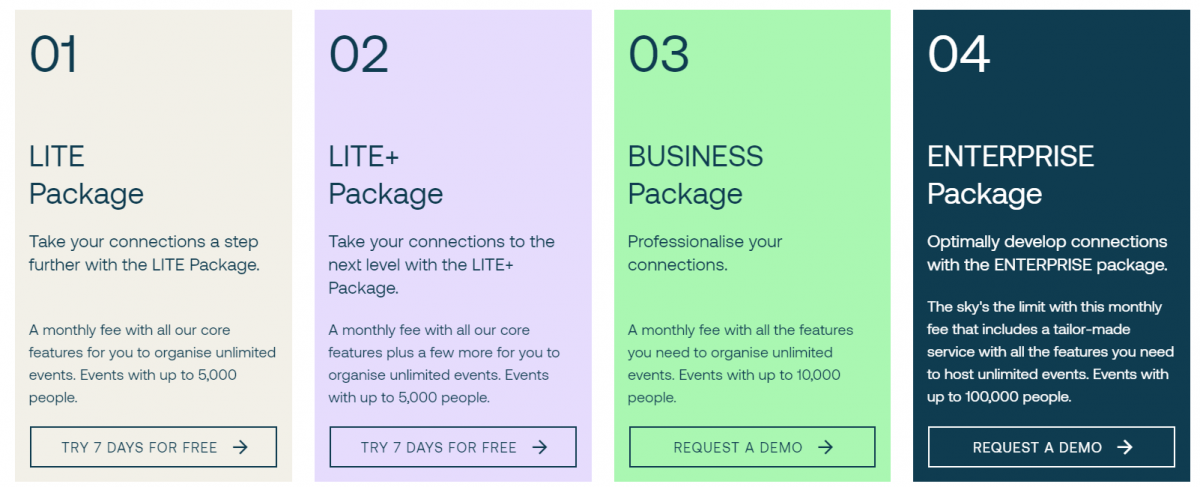 Lite | Entry package with all the core functions of the Eventscase platform for events with up to 5,000 attendees.
Lite+ | Everything in the Lite package plus enhanced live engagement tools and integration. For companies that need to grow fast.
Business | Professional automation, data and optimisation services for repeated success in multiple events with up to 10,000 attendees.
Enterprise | Advanced features for companies that need personalisation at scale. For events with up to 100,000 people.

Lite and Lite+ offer a 7-day free trial. They instantly enable businesses to create their first event, build a registration page from dozens of templates, use the fully integrated digital venue for virtual and hybrid events, and measure attendance and revenue with advanced analytics – all of it with the expert assistance of a Project Manager.
View full pricing and package descriptions here.
Your trusted advisor in the age of phygital events
Our company has been operating for over nine years in the event tech market and is always renewing itself to strengthen its market share and continue offering paths to connect communities through the power of event technology. "With the new positioning, Eventscase demonstrates its movements of frank expansion and development through one of our greatest assets, our Brand", highlighted Mentxu Sendino, CMO at Eventscase.
"It is an evolution of the previous identity, but which maintains in its concept the essence of a history of user-centric creativity, ethics and empathy. Eventscase finally has a new look, representing very well the mission that our business has to be event profs' trusted advisor", highlighted the CEO Jose Bort.