March feels like it has just begun, doesn't it? Well, at Eventscase we have so many plans that we appreciate the passing of every month so that we can achieve more things as a team! Let's go about with our monthly review and the latest happenings in Eventscase. Care to join us?
INTERNATIONAL CONFEX 2022: STRONGER THAN EVER
International Confex has returned this year during its regular dates and that gives a powerful message to the global events industry. It means that we are at the precipice of returning back to normal. While this "new" normal may not be exactly the same as the "old normal," we do know that the spirit of camaraderie is back in the corridors of ExCel London amongst all players in the UK events industry. Eventscase can definitely feel the market's recovery and that's why we had to be there!
This time we opted for a different formula because if the pandemic, and the crisis generated around it, has taught us anything—it is the need for communities to be united against all adversities.
This year we have shared a stand with our friends from The Delegate Wranglers, a community of more than 20,000 members in the events industry. We have been working together for almost three years and have always found support in each other. We would like to thank Neil Thompson and his team for our enduring partnership. The D50C stand was, without a doubt, a hive of ideas, business proposals, networking and—above all—good energy.
Our UK Sales Director, Jon Tupper, was onsite representing Eventscase. We're positive that things can only get better after Confex 2022.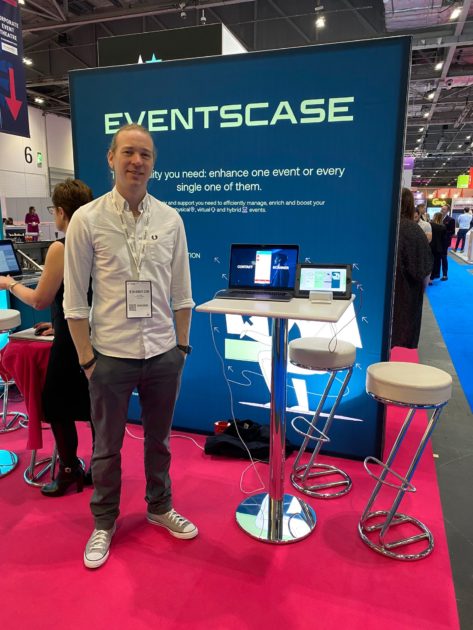 AEVEAlab FOCUSED ON LABOUR REFORM
Last Tuesday, on the 8th of March, the AEVEAlab was held in Madrid with the theme "Main Impacts of Labour Reform in the Events Sector". Alberto Fernández Irízar, a partner of the Labour Department of Broseta lawyers, analysed from a practical point of view the main new features introduced by the Labour Reform that may have a significant impact on the events sector in Spain.
Our colleague Lara Molina, General Manager of Eventscase in Madrid, participated in this event presenting to AEVEA associates the different tools we can offer them for the digitalisation of event agencies, including the "Digital Kit" which was done in collaboration with the Spanish government.
Eventscase sponsored this AEVEAlab workshop and provided tools for registrations, the website, and the Digital Venue so that those members who could not attend can still actively participate through the live chat.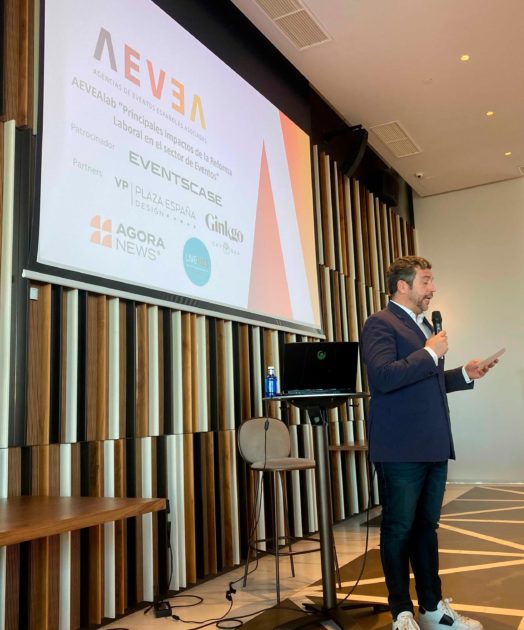 ONE WEEK TO THE MPI HISPANIC INTERNATIONAL FORUM
The IV MPI International Hispanic Forum titled "Reactivando: Zona MICE" and led by the MPI Mexican-Caribbean chapters, will address event professionals and focus on the Spanish-speaking meetings industry.
On March 17th from 15:00 to 20:00 (Spanish peninsular time), you will be able to listen to interesting topics delivered from a regional perspective through the help of invited experts and industry professionals.

It will be a hybrid event, with an in-person part at the Cancun Convention Center and an online part at Eventscase's Digital Venue. In addition to said virtual hub, Eventscase provides the registration tool and the event website for this forum. You can register here.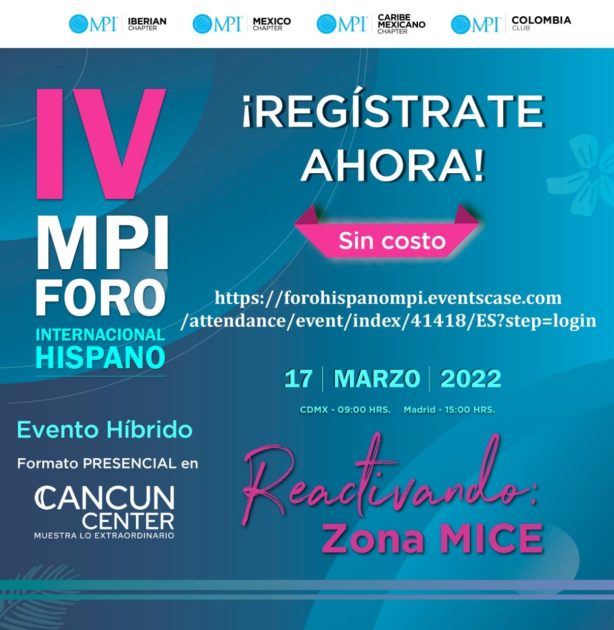 NEW FORMAT TO HIGHLIGHT OUR CLIENTS
At Eventscase we have always wanted to put our clients in the spotlight. They are the real protagonists in our story and are real inspirations in improving our software.
That's why we are about to launch a new content format in which we will highlight clients who have maximised the Eventscase platform and achieved success. Stay tuned because next week we are launching the first one from Event Options, a South African agency that has managed to use our platform in the best possible way. Keep an eye on your inboxes and follow us on social media, we'll keep you posted!