Intro
Wondering how to generate revenue from virtual and hybrid events?
You are not alone. With the ongoing pandemic, many organizers are finding it hard to bring money through their online events.
But there is one way to put an end to this struggle. And that is getting your event sponsored!
In a report by AIM Group, 78% of corporate sponsors are willing to fully invest in virtual and hybrid events.
So just because your event isn't F2F, doesn't mean it can't be profitable. There are a plethora of opportunities out there.
All you need, however, is a little spark of creativity to effectively include your sponsors in your online conference and meetings.
How Do Audiences React To Sponsors?
While sponsorships are vital for revenue. So is the experience of your audiences.
That is why when placing your sponsors in the hybrid event, don't try to over-do things.
Incorporate them where it feels most natural and not at every other chance you get.
Bombarding your participants with too many placements for sponsors will have the opposite effect of what you desire.
If the attendees feel overwhelmed with all the ads and messages. You can't expect to get high conversion rates because it will hardly leave a good impression on anyone.
What Do Sponsors Look For In Events?
Event sponsorships are the top choice for organizers to monetize their events.
This also holds true in the virtual setting.
In fact, 29.7% of all organizers admit that sponsorships are their main source of income from virtual events.
In the online sphere, the outreach of marketers and advertisers is far greater than in in-person events.
THROUGH THE VIRTUAL SPACE, SPONSORS CAN REACH A MUCH BIGGER POOL OF LEADS.
Meaning they get to interact with their target audience. And still benefit from the connections long after the actual event is over.
For you, this translates into generating income through these sponsorships. And possibly more sponsorship opportunities for future events if things go smoothly.
Managing Sponsor Expectations
Something to keep in mind, before you commit is to ask your potential sponsors what they expect in return from the event.
Businesses have greatly varying objectives that they hope to achieve through sponsorships.
As Mike Butcher, Editor-At-Large at TechCrunch says,
"We really try to work with sponsors to achieve their goals, while at the same time, maintaining editorial independence. A lot of these sponsors don't just want to have a sponsor sticker slapped onto an event. They want to do something that has a real conversational element to it."
So by communicating with your sponsors you can create tailor-made sponsorship packages. These discussions will also help eliminate any false expectations that your sponsor has from you and your event.
Having a clearer picture of everything will benefit both you and the sponsoring business once the event is over.
How To Select The Right Sponsors?
The correct approach to getting sponsorships is to handpick them. Seeing whether the sponsoring company is relevant to your event or not. Because for greater engagement and results, the purpose of sponsorships should always be linked to your event objectives.
Deciding which sponsors are right for you is about finding the correct strategic fit. It is not about getting every sponsor under the sun. Rather it is about finding those with whom you can align your goals.
After all, good quality is more valuable than large quantities.
How To Sell a Valuable Sponsorship Opportunity?
The next step after finding sponsorships is to categorize them in an income hierarchy.
Meaning that the sponsors are given air-time proportionate to how much profit they make for you, both before and during the event.
Take a look at these hierarchical sponsorship packages devised for Pulse for Product 2020.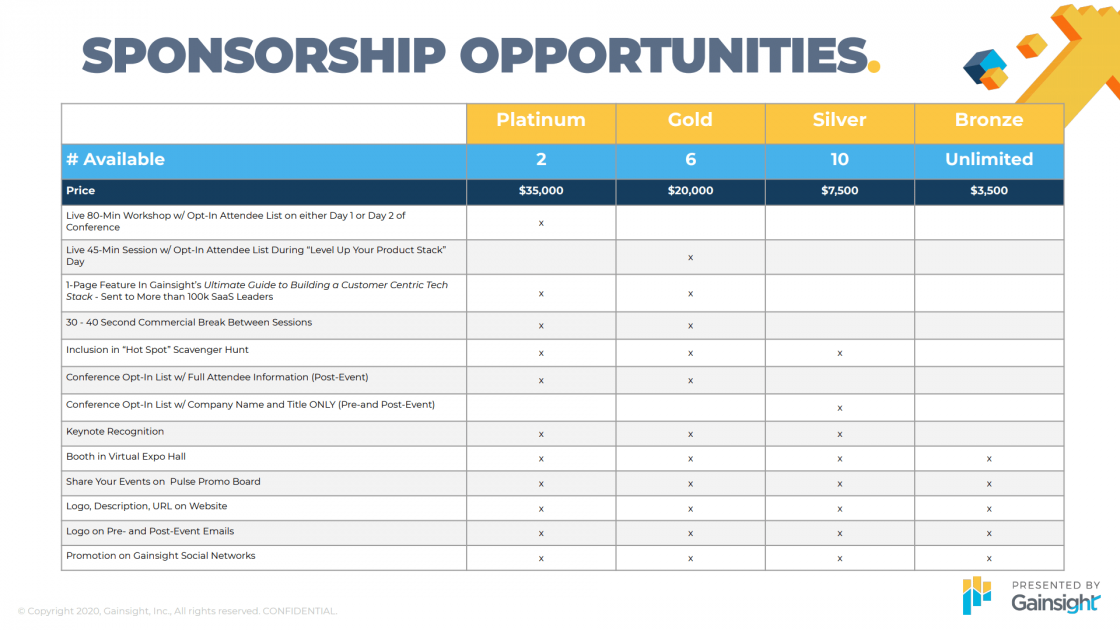 Remember that giving a platform for event sponsorship isn't supposed to be for free.
The average rate for virtual and hybrid event sponsorship packages is $8,456 according to markletic.com.
Acknowledge that you are offering tremendous marketing value to your sponsors. So, you should also be compensated handsomely.
But don't forget, your main focus is providing the event-goers with a valuable experience. So let that be the driving force behind your event planning and sponsorship selection.
Everything else is secondary.
How Can Your Virtual and Hybrid Event Make Money With Sponsorships?
Since virtual and hybrid meetings are still new, they are constantly transforming.
With every passing day, organizers are coming up with new and innovative ways of including sponsors in their events to make extra cash.
Here are some ways that will let you maximize the monetizing potential of your events through sponsorships:
Prior To The Event
The point of sponsorships is to give the business a platform to engage with your audience.
In the virtual space, this can easily be achieved by giving your sponsors the chance to post directly on your event website. This can be in the form of a blog post. Or an introduction about the brand on the event landing page.
Special Offers and Demo Services
Before the event, you can ask your sponsors to offer free vouchers and demos to your audience. Doing this will spark interest in the attendees before the event.
As they try out the free services, they are more likely to engage with the relevant sponsors on the day of the event.
76% of marketers believe emails to be the best way of raking in registrations.
Emails give you the opportunity to share information, announcements and, other relevant communications before and after the event.
They are also a perfect medium to promote and highlight your sponsors. Share their brand messages and logos with your attendees. See the example of WNORTH below for a better visual representation.  
In recent years, Twitter and Facebook have become the favourite social media platforms for event organizers to make posts about their events.
89% of event organizers use social media platforms as their main tool for engaging people prior to the event.
For your sponsors, you can tag them in your posts. Maybe write them a little thank you note like the example above.
Either way, you will be sharing your spotlight to bring attention to your sponsors, which is what they want.
Consider sending a personalized event or swag bag to your attendees.
"Even though many events have been moved online, it doesn't mean you have to lose that 'gift of engagement,'" says Jennifer D. Collins, CEO & CMP JDC Events.
These bags offer a convenient way of sending sponsor-branded merchandise to your audiences before the event.
During The Event
Director VIBE Agency, Valerie Bihet suggests that,
"A short, 15-minute private concert broadcast from an entertainer's home into the live, online event with a frame around the viewing panel branded with the sponsor's name, and a hashtag for anyone who shares the experience online, gives that sponsor even more exposure."
Such smaller segments and mini-events give more exposure to the sponsors, driving the target closer to conversion.
Who doesn't love free stuff?
Everyone does.
That is why giveaways are such a successful tactic to throw in some excitement and surprise into any event.
During the event, ask your attendees to participate in the giveaways to win free gifts. These gifts can be both digital and tangible.
Get each giveaway sponsored by a different business to generate as much sponsorship revenue as possible.
Besides showcasing the brands' logo on the event page, there are other methods that can draw the attention of participants towards your sponsors.
T.V channels play sponsored commercials before airing any major event, for instance, the Super Bowl.
You can do the same for your event in the virtual realm.
Display short ads, ranging anywhere from 7 seconds to 1 minute long, just before the event starts. This is a great time to show sponsored content as you have the undivided attention of all the audience members.
Furthermore, you can also include headlining banners with the logo of your sponsors during your live virtual event. So that participants can click through these links for more information at any time.
Coffee Break Sponsorships
Whether at a live event or a hybrid event, everyone needs to eat.
That gives you a great opportunity to partner with a food delivery service as your sponsor.
Get the food delivered right to the doorstep of your pre-registered audience members.
But if this isn't a viable option for you. Consider getting discount codes from local food businesses as a way to sponsor your virtual event.
Conclusion
Virtual and hybrid events may make it seem hard to find sponsorships. But it is good to remind yourself that sponsors only want one thing: access to your audience.
Brands are still convinced that face-to-face and hybrid events generate a higher value. However, the interest in new digital experiences is also high.
It is possible to say that the sponsors are ready to provide support to carry out new virtual experiences, as long as the content is relevant, the participants are involved and the interaction with the sponsors is guaranteed.
Event platforms such as EventsCase offer marketing and management tools to create websites from dozens of pre-ready templates, online registration, financial reports, satisfaction survey, accreditation and, in addition, a complete project management team for the broadcasting of virtual and hybrid events.