Gone are the days where the word 'technology' frightened the life out of event organisers. In 2019, technology is useful, cool, and accessible to all. We at Hire Space are all about using innovation to improve attendee experiences and make the process of planning an event easier to manage.
To save you the trouble of finding a cutting-edge space for your event, we've compiled a list of our favourite tech-loving venues to suit all your technology and event planning needs. In no particular order, they are as follows:
Battersea Evolution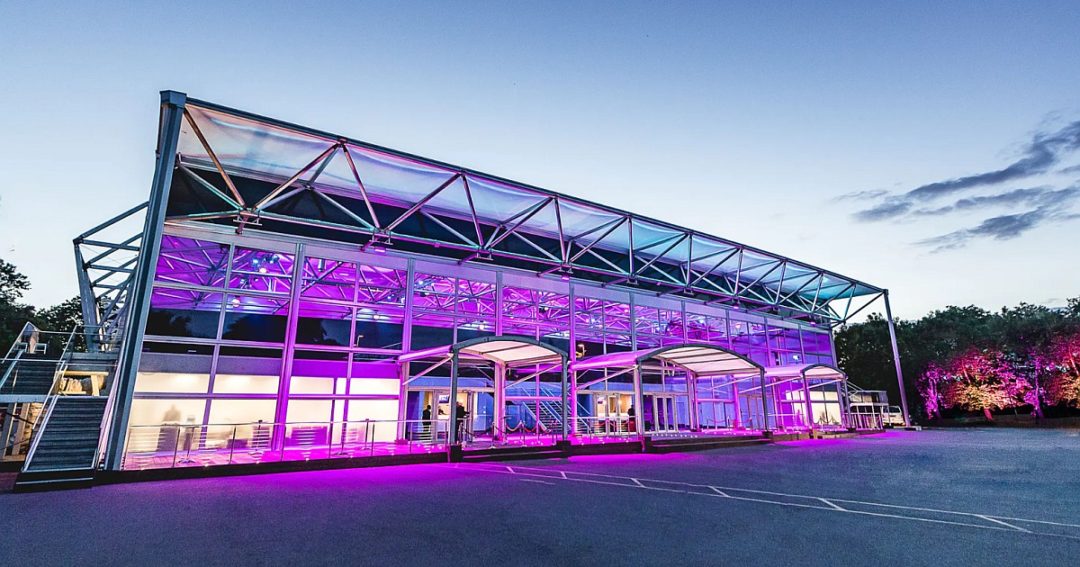 Battersea Evolution is known for its versatility. It can host anything and everything for just over 5,000 attendees, with no restrictions on load-in/derig times, high-specification AV equipment, endless branding potential, high-speed wireless internet and more.
The Evolution spans 5000+ square metres, allowing it to be separated into plenary, breakout, and networking spaces. It's been labelled as one of the most modern and versatile conference venues in London, and we've no reason to argue.
Wi-fi? Yes – high speed.
AV? Yes – through a top-end preferred supplier and production partner.
Anything unique? While Battersea Evolution is unique in itself, it offers huge branding potential with plenty of lighting options to explore.
Maximum capacity: 5,000 pax.
Suitable for: Product launches, exhibitions and corporate dinners (e.g. awards).
Closest station: Battersea Park or Queenstown Road.
Link: Battersea Evolution
---
1 Wimpole Street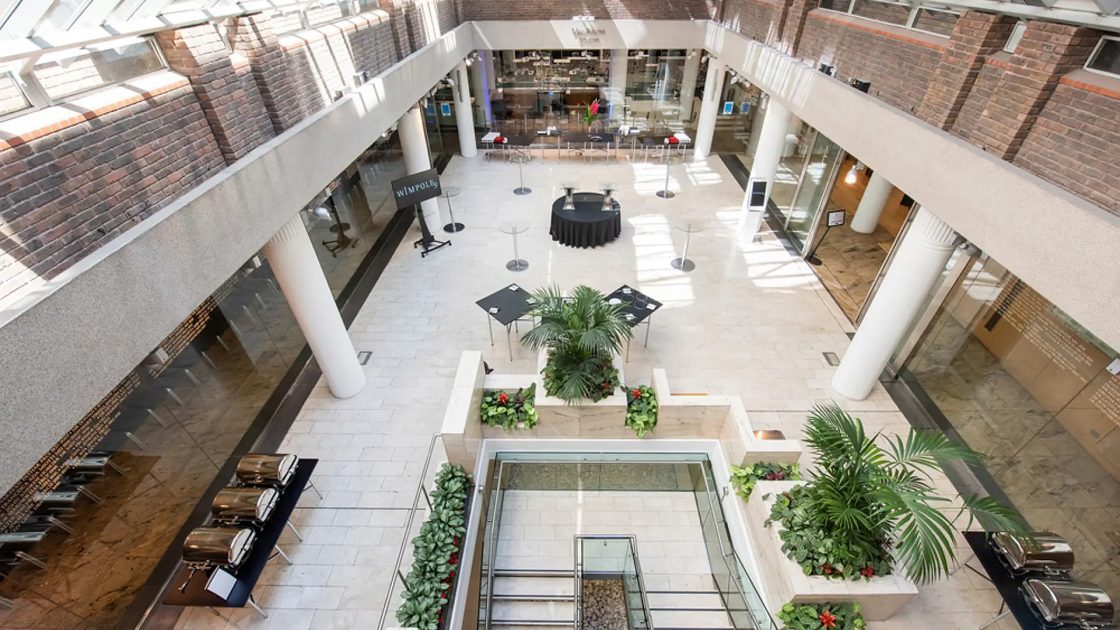 1 Wimpole Street positions itself as a leading conference venue with plenty of top-of-the-range audio/visual equipment.
Three auditoriums (the largest holding 300 people) and seven meeting rooms are ready to be transformed into a simple, comfortable and no-nonsense space for your meeting, conference or exhibition.
We particularly enjoy the glass-roofed atrium, which would be ideal for a reception or a creative product launch. Star-gazing, anybody?
Wi-fi? Yes – high speed.
AV? Yes – an award-winning AV team can offer high-end equipment, including an assisted listening system, cabled surround system, remote cameras, interactive voting handsets and an ultra-high-definition 4K projector.
Anything unique? Wireless LED lighting is perfect for branding opportunities and can be matched to any colour.
Maximum capacity: 300 pax.
Suitable for: Conferences, exhibitions, meetings or receptions.
Closest Station: Bond Street.
Link: 1 Wimpole Street
---
Bulgari Hotel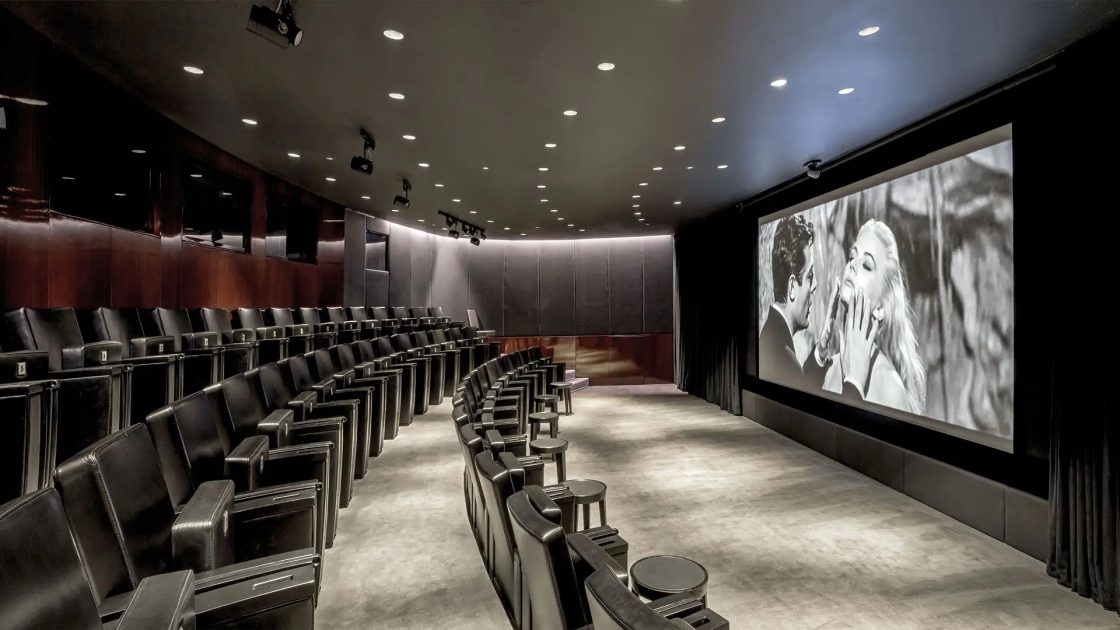 This 50-pax venue can add a touch of glamour to anything from board meetings to luxury award dinners.
Our eyes are drawn to the 47-seat cinema room – perfect for an intimate screening or presentation. The cinema is completely soundproof, provides integrated technology such as electronic voting systems and microphones, and could work wonders for an interactive, TED-talk-style session.
Wi-fi? Yes.
AV? Yes – with cinema-quality HD sound and vision, including 4k 2D and 3D.
Anything unique? Luxurious leather seats and the prestigious Bulgari name should tick boxes for high-end groups.
Maximum capacity: 47 people seated.
Suitable for: Intimate screenings, presentations or talks.
Closest Station: Knightsbridge.
Link: Bulgari Hotel
---
Puttshack Bank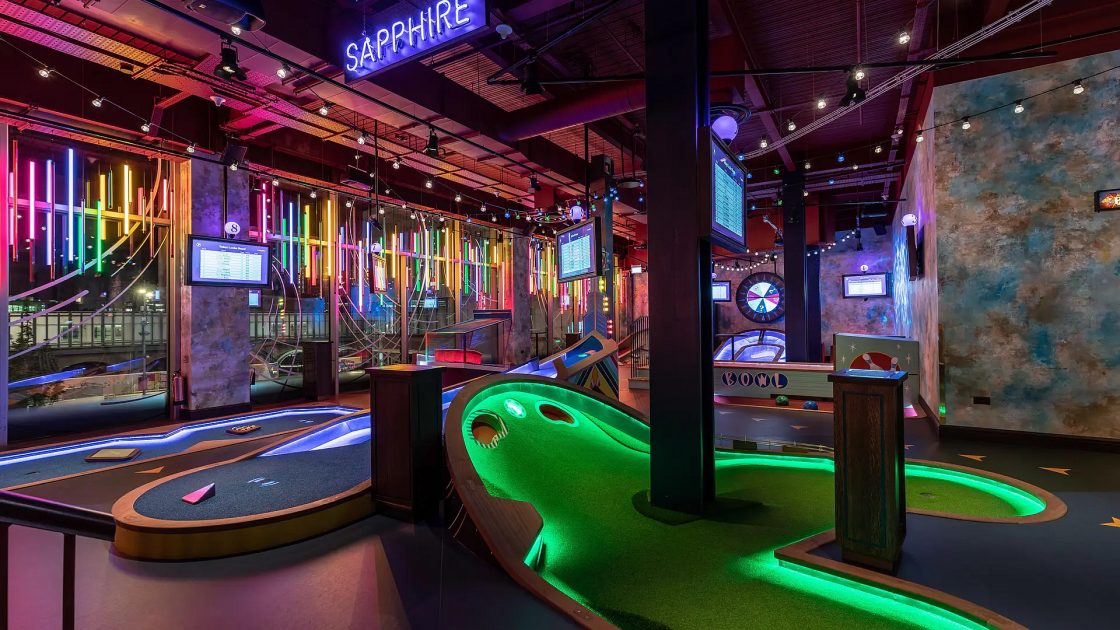 Let's face it, mini-golf can get pretty boring if you're in a large group. Puttshack flips the script with an interactive venue that is designed to help crowds of people enjoy one of the nation's favourite activities.
Up to 200 golf lovers can head to the venue for a meeting with a twist, and at a competitive delegate day rate, too. As an added bonus, tea and coffee is also included.
Wi-fi? Yes.
AV? Yes – built-in AV with laptop connections available. Each course has automatic tracking and scoring, interactive leaderboards, plus a wheel that you can spin to claim instant prizes.
Anything unique? Puttshack is reimagining mini golf in a never-before-seen way.
Maximum capacity: 200 standing.
Suitable for: Meetings, small conferences, workshops, corporate away days.
Closest Station: Bank.
Link: Puttshack Bank
---
8 Northumberland Avenue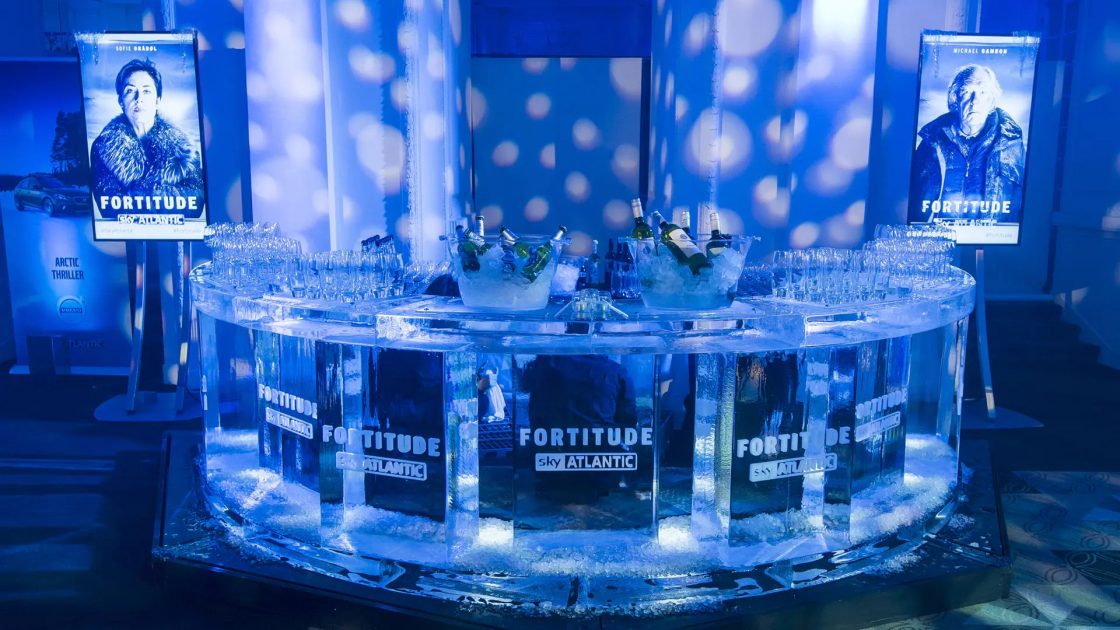 A conference space with a twist, high-tech meets events at 8 Northumberland Avenue.
Suitable for conferences of up to 500 delegates and dinners of up to 1,000, London's 'most central venue' has it all. With over eight different spaces available, you can expect cutting-edge AV capabilities and a lighting system featuring over 16 million different colours. (Yes, million.)
Wi-fi? Yes
AV? Yes – their AV and production partner Blue Hut works tirelessly to enhance your event.
Anything unique? The stunning Victorian architecture adds an interesting juxtaposition to the cutting-edge technology and creativity produced here.
Maximum capacity: 1,000
Good for: Conferences, exhibitions, award dinners and galas.
Closest Station: Charing Cross or Embankment.
Link: 8 Northumberland Avenue
---
Aures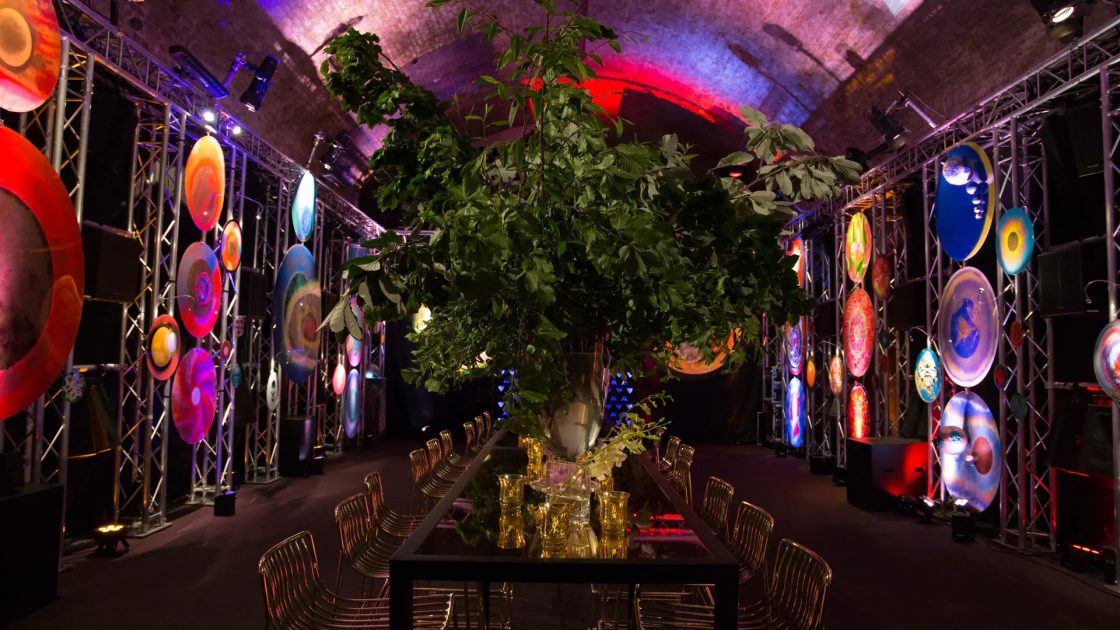 Prepare to be amazed at this sensory immersion wonderland. If you're looking for a space that will leave your guests awe-struck, Aures is the venue for you.
All five of your senses will be in stimulation heaven through spine-tingling binaural audio, other-worldly holograms and more. That's without mentioning a tantalising trip for your taste buds in the form of nitro ice cream, 'dragon breath' bubbles or even a chemical cocktail-making station.
Wi-fi? Yes.
AV? Yes – full state-of-the-art AV.
Anything unique? Sensory immersion – need we say more?
Maximum capacity: 300 standing, 130 in its theatre, or an 80-seater dinner.
Good for: Immersive experiential events, product launches or modern conferences.
Closest Station: Waterloo.
Link: Aures
---
As you can see, we love technology and it seems that more and more venues are loving it too.
Innovative features can be a huge addition to your event, taking it from dull to daring in no time. For help in finding the perfect tech-friendly venue, get in touch with Hire Space today.