Right after the COVID-19 outbreak, federal governments across the States strictly advised the event organizers to shift physical events to virtual gatherings. You know, right?
But gradually, when things started settling, hybrid events exploded in popularity. Therefore, demand for convention centers and event venues went increasingly high as well. That is why the convention centers are now making efforts to provide tech-forward solutions for hosting hybrid events.
Because of this obvious reason, we've gathered a well-rounded guide of the 10 best destinations appropriate for holding hybrid events in 2021.
1. George R. Brown Convention Center
In downtown Houston, the George R. Brown Convention Center launched a 5,250 sq. ft. new broadcast studio. It was inaugurated inside the Avenida Houston Virtual Studio, which is available for live, virtual, and hybrid meetings.
The offering includes the integration of individual presenters from any location, while panels and groups can be added from multiple live locations. The best and the most needed perk is the facility of live chat, polls, and various other options to interact with attendees.
Goerge R. Brown also offers a range of amenities for on-site attendees. These include in-house restaurants, ATM, sky bridges, and more.
Moreover, it is the first convention center in America to have Biodefense Air Filtration technology implemented. Furthermore, inside this convention center, there are 15 thermal scanning devices and electrostatic sprays to detoxify around 54,000 sq. ft. per hour. The convention center is also committed to reducing carbon footprints that's why it ensures green meetings.
2. Worre Studio
Worre Studio is a 25,000 sq. ft. studio that was inaugurated for hybrid events back in April. This studio can accommodate as many virtual attendees as its area, i.e., 25,000 participants with 250 in-person participants in a shared space.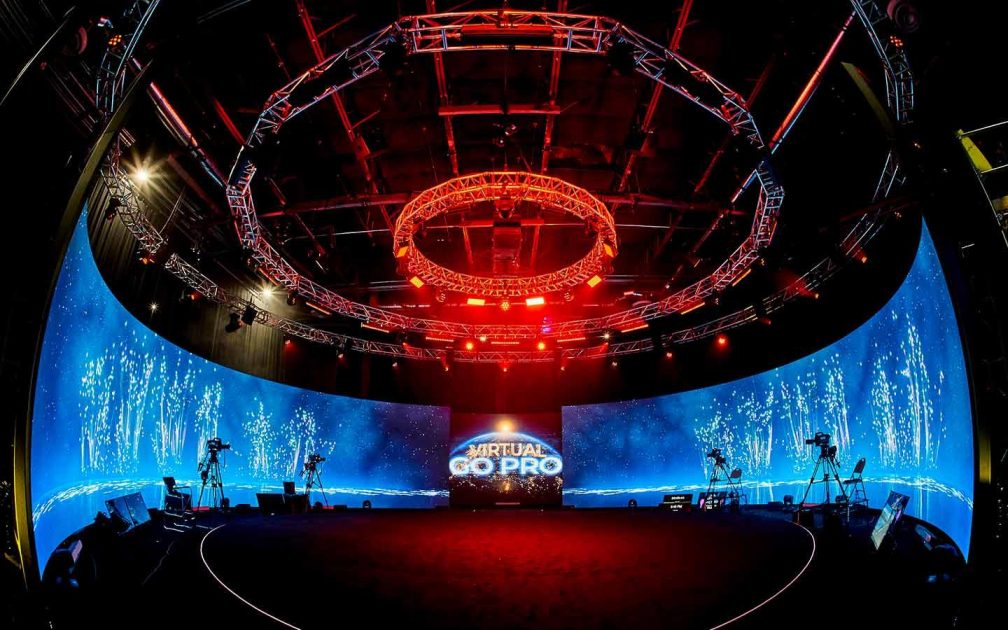 It holds a 360-degree, 1.99mm 4K LED stage to ensure maximum event coverage on an HD screen. The studio also offers real-time chat and audio communication with the virtual audience to increase event engagement. To give everyone a front-row experience, presenters and hosts can interact with up to 2,60,000 participants in real-time.
In addition to this, the studio's social media management dashboard makes it easy for you to interact with the virtual attendees connected via social media handles. With a live stream control room, your event is sure to go live flawlessly without any interruptions. The studio also introduces green rooms to reduce carbon footprints.
The best perk of this studio is the track system in half of the LED walls. It allows the event host to expand the wall to make room for a live audience.
3. Walter E. Washington Convention Center
The Walter E. Washington Convention Center – located in Washington D.C., launched Studio 801 back in September 2020. This 19,000 sq. ft. production space is well-equipped with premium audiovisual and enhanced lighting, rigging, and dynamic LED screens for virtual events.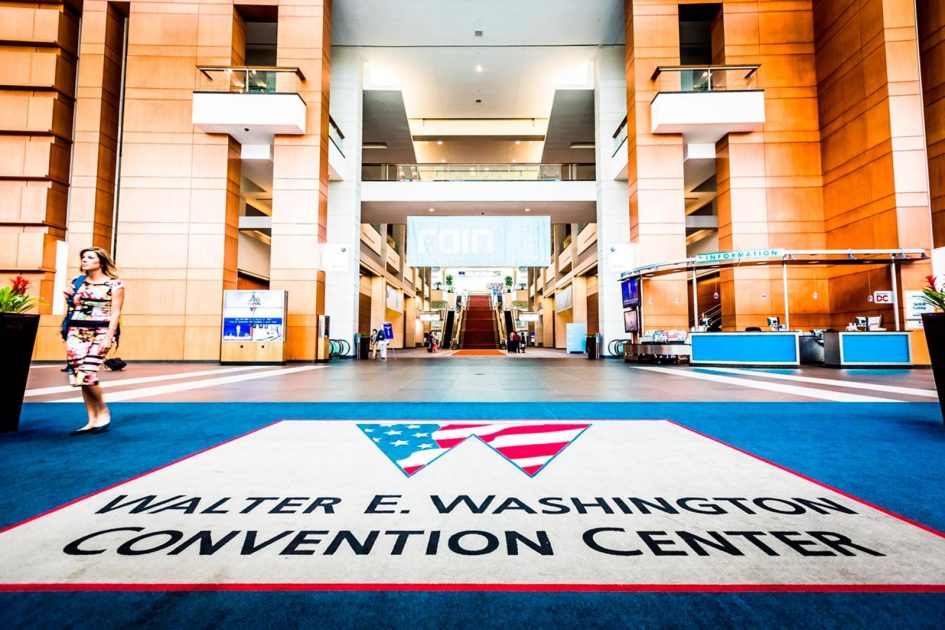 For hybrid events, the convention center can accommodate 128 people in-person while the distance between seats is 12-feet. The venue offers 'remote audience' view screens for virtual attendees.
Furthermore, the Walter E. Washington Convention Center has also been accredited as GBAC STAR. The Global Biorisk Advisory Council's (GBAC) STAR Facility is an accreditation for ensuring a safe, clean, and healthy environment for a company's customers, employees, and stakeholders.
4. Esports Stadium Arlington & Expo Center
The Esports Stadium Arlington and Expo Center – situated in Arlington, Texas – the largest dedicated Esports facility in North America has now opened for arranging hybrid events. The 100,000 sq. ft. area is used for two purposes- a versatile venue for events and a dedicated space for gaming.
The venue allows hosting both virtual and in-person events with an on-site seating capacity for up to 2500 attendees. It features a 90-ft long LED stage display, a lavish lighting system, and a high-quality sound system, making it a die-for venue for a massive event.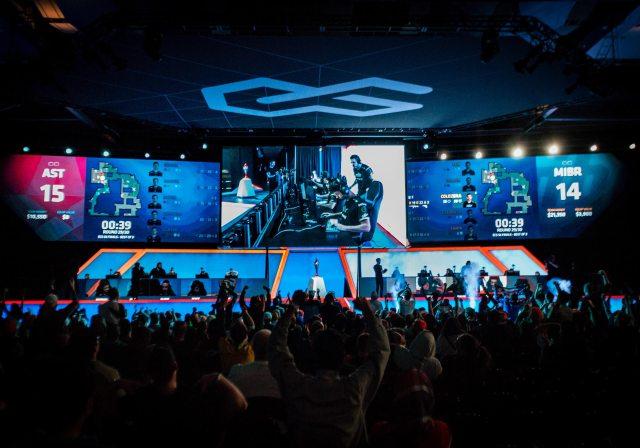 Moreover, ESA houses the Texas Esport Network- a broadcast and production facility that covers sports events, news, a range of games, and more. It also has a dedicated gaming center with 50+ gaming stations open 24/7 and a full-service kitchen for food and beverages.
5. StreamStage at America's Center Ferrara Theatre
StreamStage, tucked inside Ferrara Theatre at America's Center Convention Complex in St. Louis, is another destination for holding hybrid events. The theater's technology was upgraded to introduce the StreamStage that provides a new hybrid meeting solution to event organizers while ensuring the safety and health of on-site attendees. The convention complex has received the GBAC STAR for providing a safe, clean, and healthy space for employees, customers, event attendees, and stakeholders.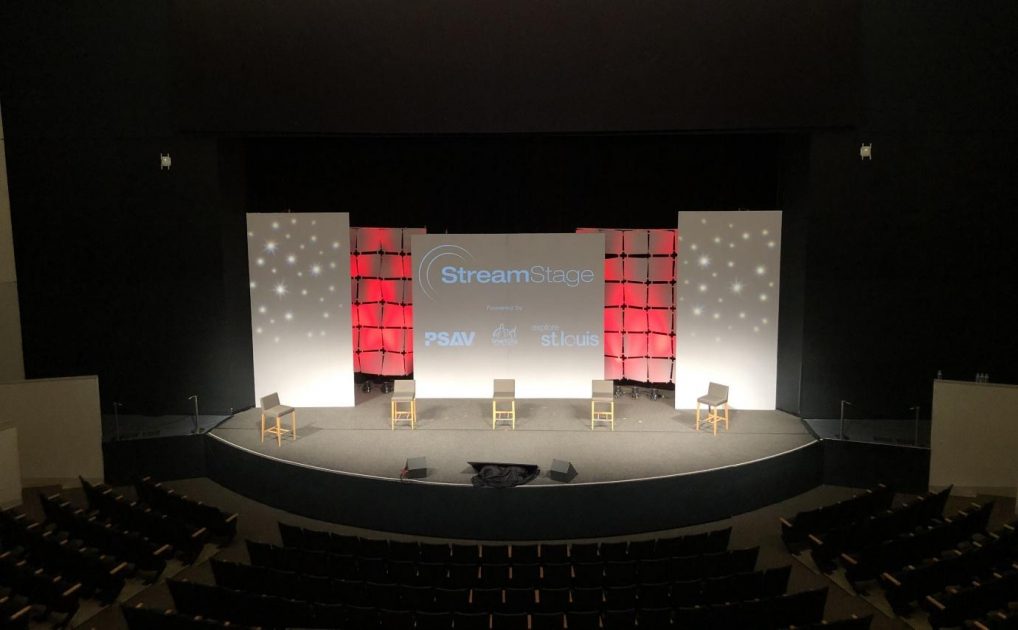 The theatre has a multi-level seating facility for up to 1,400 on-site attendees while ensuring social distancing. The venue offers a high-definition video, flawless streaming, and a state-of-the-art audiovisual system to ensure a seamless experience for virtual attendees.
You can rent the space for a full day or half-day. The packages include internet bandwidth for live streaming, a production manager, high-def camera and audio, and a studio backdrop with dynamic lighting and projection capabilities.
Located in California, Monterey Conference Center is known for providing event organizers with exceptional venues to hold massive events. Monterey Conference Center recently partnered with Immersive Design Studios- a leading tech company, to introduce the one-of-its-kind CANVAS Studio for virtual and hybrid events.
The studio, located on the second floor of the Monterey Conference Center, incorporates the Immersive Design Studio's CANVAS software platformand 360-degree wraparound screens for an interactive experience. The screens coupled with CANVAS allow event speakers to see thousands of virtual attendees at once, allowing two-way interaction. You can also zoom in on any attendee to interact with them in real-time.
The 10,000 sq. ft. CANVAS studio has an on-site seating facility for up to 80 attendees. The attendees can stay around in Monterey since the area offers 10,000 guest rooms offering full-service hotels and resorts, breakfast inns, and more.
In November, the Orange County Convention Center, Orlando, opened a broadcast center named the OCCC Executive Studio. It's a digital broadcast center designed for hybrid events and conventions. Since the studio partners with an audiovisual company LMG, it offers state-of-the-art audiovisuals, premium equipment, and interactive technology.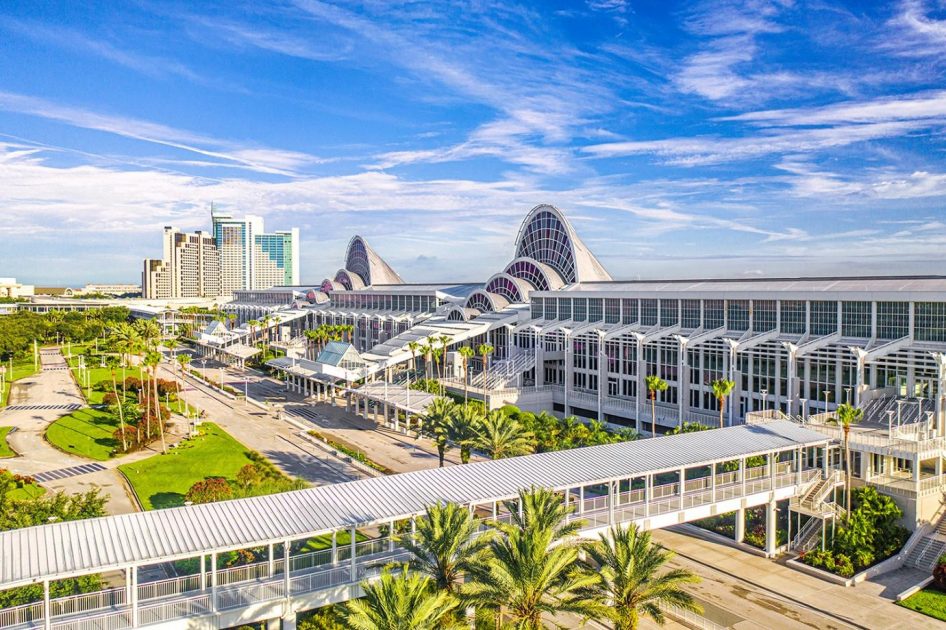 Being located in the convention center's lecture hall, the OCCC Executive Studio offers a classroom seating style to maintain social distancing. It also offers customized lighting and audiovisual solutions.
Another hybrid event option at this convention center is the Linda W. Chapin Theater. The theatre features a 97,000-watt audio system, a versatile stage, and a destination lounge that can serve as a virtual studio.
A 40,000 sq. ft. event center for indoor and outdoor events – opened near the Las Vegas Strip is widely known for its unique floor-to-ceiling projection mapping.
The allotted room for conducting a hybrid event is 6,584 sq. ft. and offers a blank canvas for mapping on the wall for virtual attendees. The portal can host 400 physical participants for seating and around 900 for standing receptions.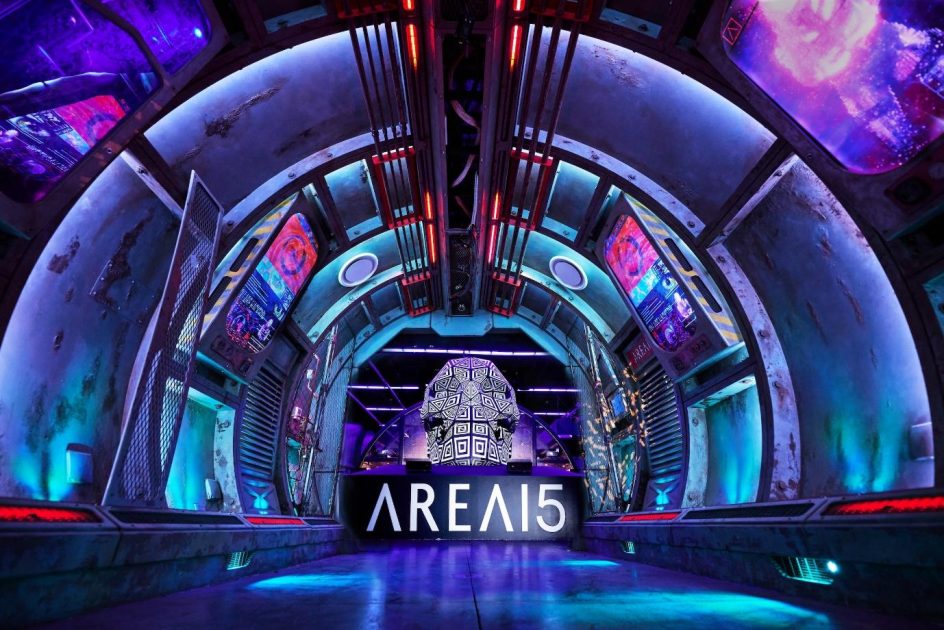 The Visit Anaheim Convention Center recently expanded its operations to introduce Turnkey studios that meet the needs of virtual and hybrid events of varying sizes. The center's Hybrid and Virtual Mobile Studio contains three stages; stage one allows one person to speak at once, stage two accommodates up to four people where two can speak at a time, and stage three allows live panels and group discussions.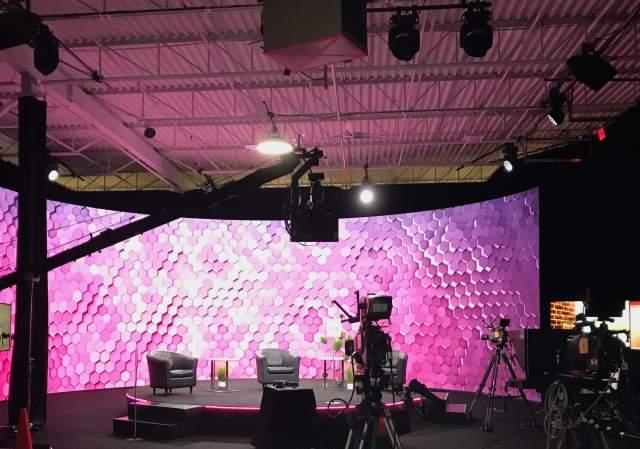 Each stage has a custom digital backdrop, internet bandwidth for live streaming, high-definition audio and video systems, dynamic lighting, seamless web interference, and more. Presenters are also offered support with timers and cue lights. Professional and technical services are also available with options like access to a project manager, stage manager, technicians, camera operator, video/audio engineer, and more.
Another destination for holding a hybrid event is the Javits Center in New York that has recently introduced a new broadcast studio spread over a 30,000 sq. ft area. It allows you to connect with in-person and virtual participants without a hitch.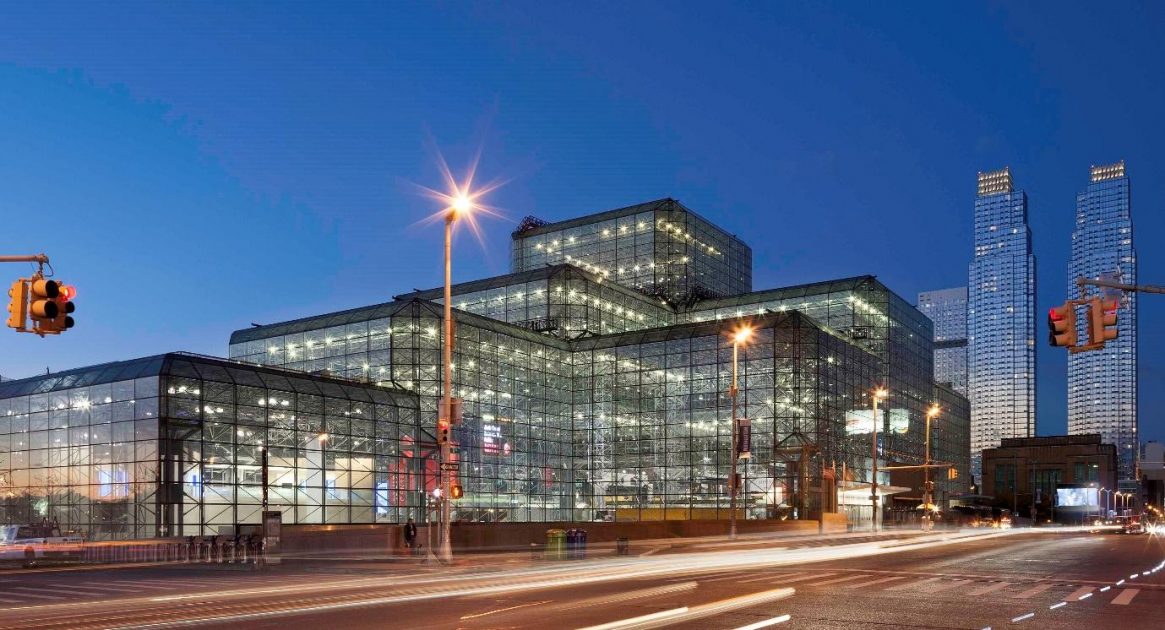 The studio is equipped with a 50-ft LED wall, two HD studio cameras, wireless mics, and connectivity to ensure a seamless experience for virtual meetings. It also offers a space to host up to 300 in-person attendees in a socially distanced environment. You also get a private green room and an onsite production team to facilitate event organizers.
So, these are some of the best venues equipped with the latest technology for holding hybrid events. Which venue are you going to book for your next hybrid event?