The secret sauce to make your events successful is data analysis. Yes, you read right.
By having an eye on statistics, you can make every upcoming event better than the previous one.
And, how to do this analysis?
Well, our 10+ KPIs are here to measure your event success. 
So, let's dive in and see whether you are going in the right direction or not!
Analyze Registrations & Absence Rate
The first and foremost metric to measure the event's success is the registration count. It tells you how many tickets you have sold. 
If you have surpassed your estimation goal then it is a huge victory sign.
Pro Tip: If you have also sold tickets through promo codes then analyze their selling ratio as well.  You should keep an eye on the most used promo codes. Because it is a strong source for getting more registrations in the future. 
Moreover, analyzing registrations by ticket type is also important. It discloses appealing price points for future events. 
But, don't let getting sky-scraping registrations fool you.
It isn't merely about registrations. Analyzing the absence rate is also important. It tells you that the people who registered for your event showed up or not.
You can easily find the percentage by:
(Absentees / No. of registrations) * 100
The less it is the better!
Yet,
The average no-show percentage of virtual events is 35%. This is slightly higher than in-person events. 
However, if your absentees' ratio is huge than 35-40% then it signals a bad marketing strategy. You have failed to keep your audience excited till the event date.
Revise marketing strategies for the next time keep them glued till the end.
Keep an Eye on Attendees' Engagement
Having the audience on board is the first step, the next challenge is to keep them active throughout the event. 
As 49% of the marketers state that audience engagement is one of the crucial factors to measure event success. 
You can analyze their enthusiasm by the time spent in sessions, live polling response rate, and chat, etc.
Furthermore, if you have attendees from different professional backgrounds then drilling down into sub-groups is also beneficial. It will provide you an insight into the most active groups within the audience. Consider them as your potential audience for future events. 
Besides engagement, networking is one of the biggest motivators to attend events. So, also analyze, have you enhanced the professional network of your audience? 
Check it by monitoring the communication that happened between attendees. For a virtual audience, it can be estimated by messages, etc. 
Yet, for the on-site attendees, you can make it happen by conducting several fun activities.
Compute Attendees Drop off Rate
The high drop-off rate of attendees speaks aloud about the event's failure.
The drop-off continues after 45 minutes in length. I have done both industry events as well as corporate and association events and speaking with some AV and platform companies, this seems to be average.
If you haven't made your events captivating the audience can lose interest in a jiffy. Especially, the virtual audience – because of being a click away to shut their screens.
For the on-site audience, their enthusiasm, engagement, and interaction will speak a lot about their interest in the event.
Thus, make your events fascinating. 
Keeping the sessions short with proper break intervals proves helpful. Moreover, you can conduct fun activities for both – the virtual and on-site attendees to keep them engaged till the end.
Conduct Surveys
Surveys are an important means to communicate with your audience. They reveal the audience's satisfaction, concerns, and pain points.
91% measure the success of their events on attendee satisfaction.
Besides conducting post-event surveys go for pre and during-event surveys as well.
Why?
By pre-event surveys, you can readily know what your audience wants to be included in the event. By having this data, you can draft content exactly according to their needs. Moreover, including questions from pre-event surveys will make your audience feel heard.
Likewise, by conducting during-event surveys you can vanish the audience complaints and concerns right at the spot. Don't forget to designate some team members to respond to the audience immediately. Otherwise, it can turn into a severe backlash.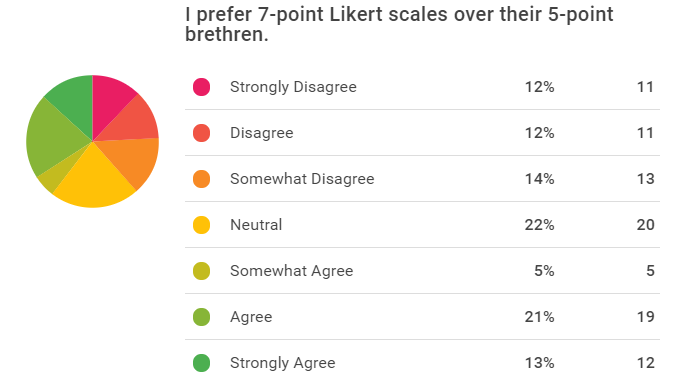 Pro Tip: Include numeric response options in your surveys. It is easier to skim through quantifiable data. Yet, giving comment boxes is not harmful at all. It provides your audience a room to convey themselves better.
Go through Individual Session Ratings
Besides analyzing the whole event rating you should dig deeper into the sessions individual's ratings as well.
This metric will help you determine the speakers' performance. You will know whether your selected speakers resonated with the audience or not. 
It can be analyzed by several metrics, including:
Number of session reviews 
Audience engagement during the specific intervals
Survey responses, etc. 
After analysis, change the speakers for the sessions having low ratings. Likewise, you should retain the speakers of the sessions with good responses.
Calculate the ratio of Repetitive Attendees 
We can't emphasize much on attendees' retention. 
Why? 
Because the study reveals it costs approximately 5x to get a new customer than to retain an existing one.
The high cost per customer acquisition will generate you lesser profit in the end.
Moreover, if you remained successful in retaining attendees it signals that your events are up to their expectations. 
Otherwise, gaining new attendees for every event is only helpful for the short term. To grow business exponentially, you must know the art of retaining the old audience.
Calculate Business Generated from Attendees
It isn't only about the profit generated through tickets. Good events can generate revenue for a longer time.
So, explore the visitor-to-customer ratio after events.
But, the question arises: In the presence of multiple channels how can you determine the customer acquired through events?
It needs to have proper event data integrations to determine these specific leads.
How?
Your satisfied participants who developed faith in your business can become a great source of increasing your revenue.
Pro Tip: To leverage your events afterward, you can do personalized marketing based on visitors' interests. Use their interactions, interests, and pain points to market them a service or product exactly according to their needs.
Capture Social Signals You Got Through Event Marketing
"37% of event planners report that social media exposure is a key metric of event success." 
You may be wondering how social signals can determine your event success.
Well, besides getting registrations it builds credibility in the digital space. Social exposure strengthens the brand image among the masses and helps you get business for longer.
Pro Tip: Dive deep into the stats for each social media platform you use. It will reveal which platforms brought you more attendees. Furthermore, if you have used influencer marketing then shortlist the names that got you more audience. These stats will help you to focus on the most useful sources for upcoming events.
Moreover, keep an eye on brand mentions. 
Why?
If you have got plenty of positive brand mentions then it means your event has gone successful. Yet, don't forget to address the complaints as well. Because one viral post of any attendee can ruin your business reputation severely.
Keep an Eye on Opportunities Created Through Events
This metric isn't very crucial for B2C businesses but B2B companies should pay much attention to it.
Why?
Maybe your event hasn't brought money to your table immediately but can flow in a big chunk of revenue in the future. It can be in the form of collaborations, partnerships, or sponsors.
To identify these opportunities precisely, you must develop a strong marketing and sales funnel.
Look Over Sponsor Satisfaction
Sponsors are considered as the major pillars in conducting events successfully. Thus, you should pay special attention to their satisfaction.
You must be all ears to know what worked well for them and what hasn't. It will help you focus on your strong areas, and revising strategies for betterment. 
If your event has bought them brand promotion, built audience connection, or generated them handsome revenue then it is a good sign.
Otherwise, they may stop backing your business for future events.
Pro Tip: You should build a dedicated team to draft statistical proof. Otherwise, lacking proper data can cause conflicts.   
Calculate Profit – Cost to Revenue Ratio
In the end, it is all about profit. However, don't mix the profit with revenue. 
To calculate profit, it is important to properly evaluate event cost as well.
Profit = Generated Revenue – Cost
Remember, while calculating the cost of a hybrid event you should add every expense. It includes venue, human resources, travel stipend, and marketing, etc.
Otherwise, you will get misguided results.
Final Words:
By now, you have 10+ ways to measure success for your hybrid events. They will work as the roadmap to bring improvement to your upcoming event. 
So, it is time to surpass the superficial success analysis and dive deeper through the above-mentioned KPIs for measuring success in the right way.