February is a short but intense month, well at least for us in Eventscase. The market is definitely recovering—that's a fact. Clients are already preparing for physical events and we are fully immersed in new developments, some internal events and our preparations for International Confex 2022.
Let's go over our monthly news…
EVENTSCASE PLATFORM USED IN THE SPAIN-UAE BUSINESS MEETING
On February 2nd, the Spain-United Arab Emirates Business Meeting organised by the Spanish Chamber of Commerce, CEOE and the Secretary of State for Trade, through ICEX Export and Investment, was held in Dubai. This paved the way for an official trip of the Prime Minister of Spain, Pedro Sánchez, to the United Arab Emirates.
Eventscase's Dubai office provided the event organisers with its onsite registration and support solution. The event was a remarkable experience for our company. Showcasing our technology to the highest institutions of Spain was already a unique experience in itself. What we didn't expect was for all our hard work to be validated in the form of a generous testimonial. Ana Fernández Salve, Head of Sector – Investment Forums at ICEX, wrote to us some great words of encouragement.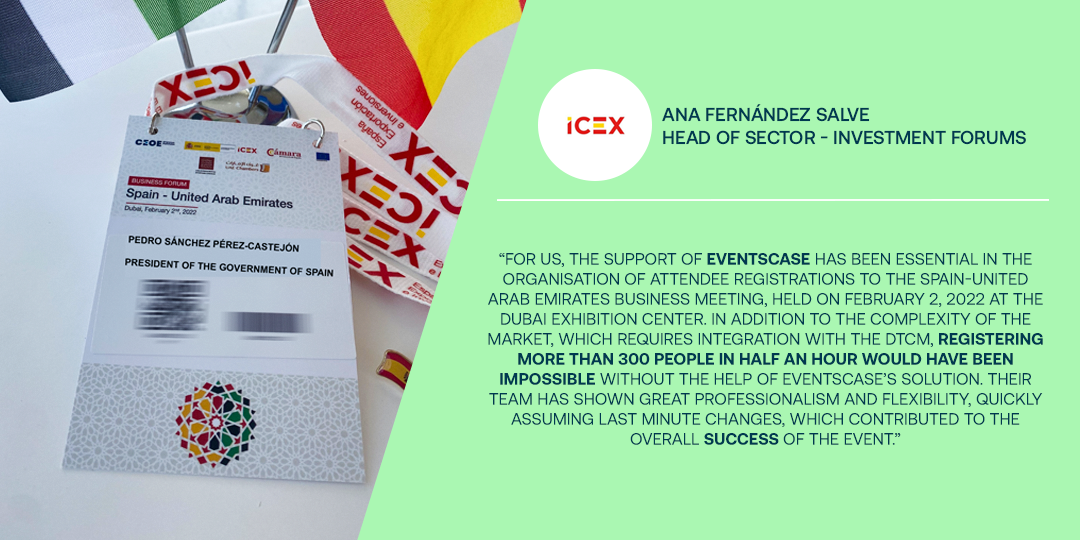 Thank you for your kind words, Ana, and for highlighting two characteristics that we aim to uphold at all times: flexibility and professionalism. As a technology partner, we strive to make the work of event organisers easier, fully knowing all the challenges behind organising a successful event.
TECHNOLOGY PARTNERS OF THE 34TH OPC SPAIN NATIONAL CONGRESS
Eventscase finds great importance in the work we do with associations from the events industry in all the markets which we operate in.
We are proud to provide our solution for the 34th National Congress of OPC Spain, which is currently taking place in Cantabría. Eventscase, in partnership with AV Medios, has offered products and services for registrations, check-ins, and badging. We have also provided the event app and the Digital Venue for attendees who cannot attend in person.
In addition, our Sales Director for Spain, Alex Barbero, is participating in a workshop entitled "Accessible events, inclusive events."

WE WILL BE AT CONFEX SHARING A STAND WITH THE DELEGATE WRANGLERS
On March 8th and 9th, we will be at International Confex in London. We will be sharing a stand with one of our esteemed partners The Delegate Wranglers. Our UK Sales Director, Jon Tupper, will be representing Eventscase in what is known as the UK's leading exhibition for the meeting and events industry.
Jon himself says: "Our long-time friends, The Delegate Wranglers, are a community. We are simply thrilled to share the great Confex experience as part of this community and can't wait to meet you there."
Want to see us onsite? Find us at stand D50C where we are completely at your disposal. We look forward to seeing you!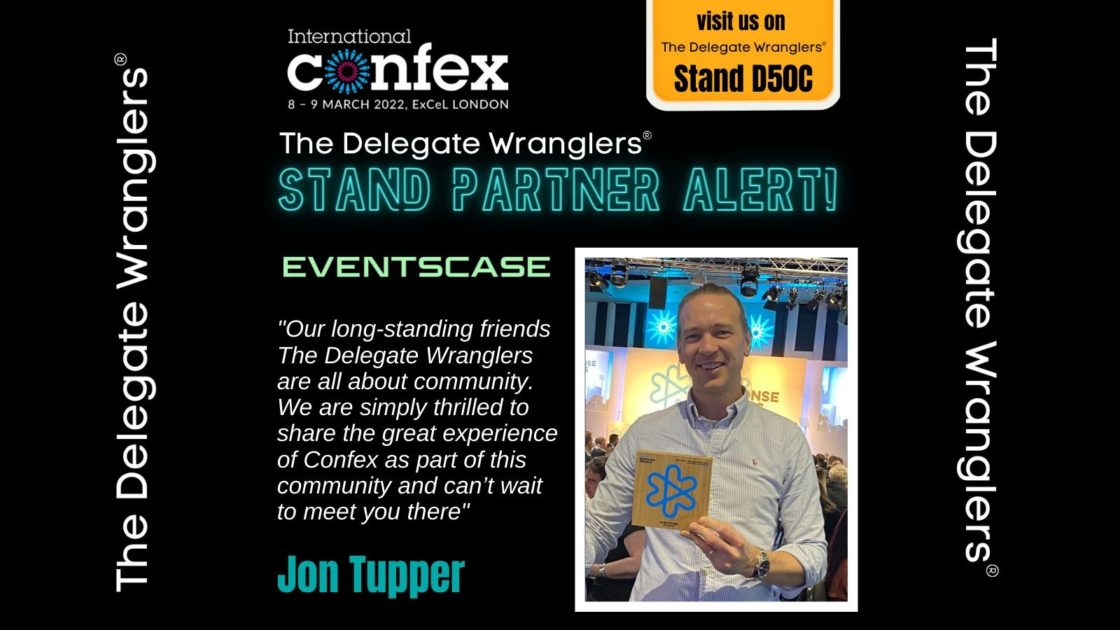 FIRST 'WHAT'S UP EVENTSCASE' EVENT OF THE YEAR
There's less than a week left to present the first edition of our quarterly 'What's Up Eventscase' events where we will present new products, developments and functionalities. In English, it will be on February 23rd, 11 am GMT. There's still time to register if you haven't yet. Register HERE.