We finished October with big news: our new brand!
It comes at a special moment, as we are restructuring our content, product, and pricing strategy as well.
Eventscase's identity is now cleaner and younger. We are more connected and united to our audience. We will still have improvements to get closer to what we always dreamed of: being your trusted advisor, always aiming higher!
Here's a roundup of everything we've been through last month:
Eventscase's launches new brand and pricing strategy
Always aiming higher: say hello to the new Eventscase brand! To mark a moment of innovation and growth, we at Eventscase, one of the main providers of event tech solutions and services worldwide, are launching our new brand.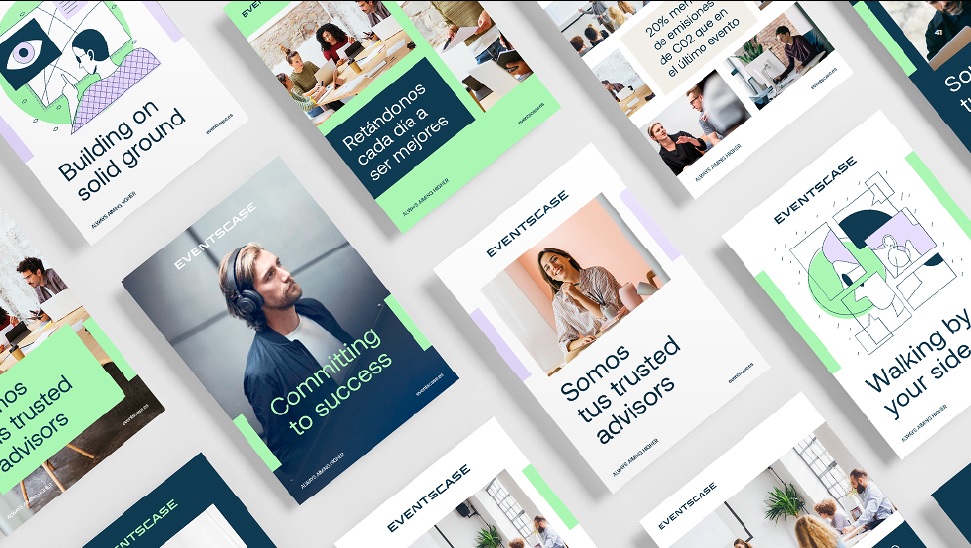 The visual identity marks a new phase in the company's trajectory, one of accelerated and sustainable growth.
[New Whitepaper out] Social Media Management in the Events Industry
88% of marketing professionals admit to using social media in all aspects of event management. That is why the event industry needs social media management now more than ever before.
So, we released this guide that presents strategies from some of the most famous names in the game and recommendations for implementing integrated social media management with your hybrid events.
Eventscase's CEO Jose Bort lectures about Phygital Events at Event Tech Live 2021
Last November 2, Jose Bort, CEO @ Eventscase took part in the main stage of Event Tech Live 2021 to deliver a keynote about the convergence of physical and digital worlds and how that impacts the events industry. If you didn't get the chance to watch it or want to get familiarised with the phygital concept once for all.
Event Tech Live Headline Sponsorship
Event Tech Live, Event Industry News' signature event and one of the largest conferences about the events industry, returned in 2021. This year's edition had Eventscase as Headline Sponsor.
It was a one-of-a-kind experience! Not only because we had the opportunity to help the community to understand the trends that will dominate the industry in the upcoming years, but because we also could finally see our partners out of the screens again and shake hands.
Also, it was the first time we had a stand set up with our new brand identity!
EMA Learn with the International School of Protocol.
On October 7, the first session of EMA Learn with the International School of Protocol was held. It was an exclusive training for EMA members. The event program covered essential aspects such as usability in events and the basic techniques for organising guests.
In addition, we were also the official platform for the promotion and broadcasting of the association during the second session, on October 28.
UPCOMING
Global Eventscase Event 2021: New Launches Presentation
On November 18th, 11 a.m GMT (London Time), we'll hold the official launching event of the Eventscase new brand!
We are happy to have taken steps to come with nothing but the best for our customers, always aiming higher! Thus, we want you to embark with us on this journey of growth and innovation.
In this session, we'll also discuss the future of events with invited top industry leaders.