Since the pandemic, organizing and attending in-person events safely has been dwelling with a question mark. However, now the situation is gradually becoming normal, and many small-sized in-person, hybrid, and outdoor events have been planned. Many organizers are also looking to empower their endeavors with event planning insurance.
In such a scenario, it's crucial to know how to ensure compliance and safety measures in the upcoming events of 2021. This article will discuss few critical areas on which event organizers can focus for safe gatherings and events.
Type of Gatherings
Although the Centers for Disease Control and Prevention have been recommending avoiding large gatherings and events, till now, no numbers defining large and small events have come from their end. In 2020, 30% of organizers were reluctant to attend meetings in any circumstances. But, the additional 32.7% were willing only if the meetings were locally organized and small.
Large Gatherings: Large gatherings often happen in planned events encompassing a large number of invitations and guests. Involvement of event staff, security, tickets, lodging, and long-distance traveling are perceived in such circumstances. Therefore, for events such as trade shows, conferences, sporting events, festivals, large parties and weddings, and concerts, CDC's significant events guidance might be applicable.
Small Gatherings: It doesn't have a formal tone, and you can organize it in someone's residence. Here, attendees can come with their friends and family or someone they socialize with regularly. Such gatherings usually void of long-distance traveling. Moreover, the guidance of the small event would be apt for these events like family dinner, holiday parties, and small celebrations.
Being an organizer, collaborate with the local and state health officials to attain the requirements and circumstances of your local community.
Considerable Risk Factors
Various factors can be responsible for the participants getting infected and spreading Covid-19 in more significant events. However, persisting with each other, the underwritten factors can create a more significant or lower amount of threats. Hence, the majority of investors are considering virtual meetings as their preferred choice. 
The Number of COVID-19 Cases in Your Locality
The risk of spread and infection increases if the area around the venue has many COVID-19 positive cases. The same happens when attendees come from affected areas. Hence, organizers can check relevant data from the website of the health department.
Exposure while Travelling
Anyone can be highly exposed to infections in places like buses, bus stations, resting areas, airplanes, airports, etc., where ventilation is poor and difficult to maintain physical distancing.
Venue of Events
Organizing events in an indoor venue with an insufficient ventilation system increases the chances of infection than outdoor venues.
Duration of Event
Events with more extended periods possess more threats than shorter ones. Being in contact with an infected person for 15 minutes or more within 24 hours hugely increases another person's chance of being infected.
Number of In-Person Attendees
The more people attend an in-person event, the more chances of infection and spreading arrive. Thus, experts recommend determining the size of the venue after considering whether attendees can maintain the social distancing protocols (being at least 6 feet distance from each other) within the premises. Ensuring physical distancing through modification of the room layout or blocking seats can significantly diminish the risk of infection.
The Behavior of Attendees During the Event
During the event, people interact with each other, singing, speaking, shouting without maintaining physical distancing or wearing masks consistently or adequately increases the risk of spreading infection.
Hence, organizers should determine whether they are ready for planning an event with proper implementation of safety measures. Besides, they should also assess current conditions to decide whether it's better to cancel or postpone large gatherings.
However, you can also organize the same event with lesser numbers of participants. If they cannot conduct an affair with every possible safety measure in place, opting for a virtual event would be wiser. Galore of organizers have already shown their keenness towards virtual events. The global market is forecasted to witness thrive of 23.2% CGR from 2020 to 2027.
Advocating Healthy Behaviors Reducing Spread
As an event planner, start exercising strategies for encouraging healthy behaviors to stop COVID-19 spread among the attendees and staff. However, in the current situation, the success rate of an event depends on how proficiently people present at the venue are exercising safe behaviors.   
Staying at Home if Appropriate
Edify your staff and attendees about when they need to stay home. Advice them to keep themselves isolated if they are COVID positive, waiting for the test result, having symptoms, or came in contact with a positive or symptomatic person.
You should also perform health checks like temperature screening and detect other symptoms safely and respectfully, which should go according to applicable privacy regulations and laws. However, bear in mind that temperature screening and identification of symptoms alone won't impede an infected person from joining your event.
Social Distancing
Adjust the size of your venue, ensuring that the attendees from different residences can maintain at least 6 feet distance from each other. Upon their arrival, advise attendees to keep the distance from people they don't live with.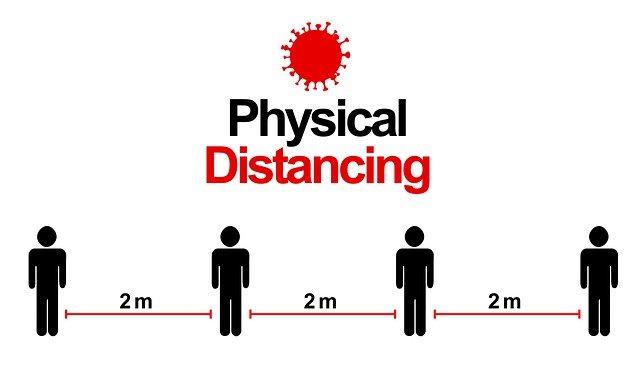 Include signs of physical distancing, and discourage attendees and staff from greeting each other through physical contacts like handshakes.
Wear Masks
Make strategies for monitoring the compliances. Moreover, mandate wearing well-fitted masks covering nose to mouth for the attendees and staff both.
Advice attendees not to place masks on babies below two years. People with breathing problems, unconscious, and unable to remove the mask without support shouldn't put them on.
Respiratory Etiquette and Hand Hygiene
Ask the participants and staff to wash their hands frequently. For example, it's mandatory to wash hands prior, during, and before distributing or taking tickets or after handling garbage.
Washing for at least 20 seconds is required. And increase monitoring to check whether the protocol is being followed or not.
In unavailability of soap and water, staff can provide hand sanitizers comprising 60% alcohol to attendees. After taking sanitizer, hands should be rubbed until the sanitizer gets wholly evaporated.
Advice participants to avoid shouting or singing. It's especially imperative when indoors. If there's music, keep the volume low, so no one needs to shout.
Enough Supplies
Without having enough supplies, you cannot maintain healthy hygiene. Hence, always ensure that the collection you have is enough to support the attendees, and staff will be present during the event. Water, soap, and 60% alcohol-based hand sanitizer are must to have. And, for wiping hands, paper towels, tissues, disinfectant wipes, and tissues should be in enough quantity.
Messages and Signs
Place signs denoting how proactive measures like physical distancing, properly wearing a mask, and washing hands frequently help prevent the COVID-19 spread.
Announcements should be broadcasted on COVID-19 protection measures through public address systems regularly.
When interacting with vendors, staff, and attendees through social media accounts, event websites, or invitations, provide messages (like videos) informing them about the behavior required to prevent COVID-19 spread.
Maintenance of Healthy Environment
21% of event management professionals forecasted that simple and small meetings would be most common in all event formats in 2021. It's a measure against COVID-19 when maintenance of a healthy environment is ensured. Several strategies event planners can apply to maintain a healthy environment within the venue. 
Disinfect the frequently touched surfaces of the venue starting from the day before the event begins. Maintain the cleanliness daily, and areas like door handles, grab bars, sink handles, cash register, and hand railings are must be disinfected.
Disinfect shared objects like tables, payment terminals, bars, countertops, and condiment holders based on their level of getting used.
Consider restricting people from accessing areas that can't be disinfected during an ongoing event. Make a cleaning strategy, and enact it before renting the venue. Also, ensure that the groups, which will be following your facilities, also adhere to these routines.
The cleaning process shouldn't be performed when children are present. Your staff should ensure enough ventilation while disinfecting so that they and attendees don't have to inhale the toxic vapors.
Contact Tracking
Hauling towards the virtual base, engagement is the biggest challenge for 32% of planners. Hence, in-person meetings are necessary. Hence, contact tracking is too. By informing people about being exposed to a COVID-19 positive patient, monitoring for related signs, and getting self-isolated can slow down the spread of COVID-19. Being an organizer, you can also work together with the health department to track your event attendees.
Going through the guidelines mentioned on this page, you can indeed create a shield against COVID-19, protecting your attendees, staff, and volunteers.
Key Takeaways
In the guideline on Key Planning Recommendation on Mass Gathering, published on May 29, 2020, World Health Organisation emphasized the risk assessment exercise for mass gathering, enlightening some essential factors. Factors like the normative and epidemiological context of the event venue, risks of spread associated with the event, and the capacity to implement the control and preventative measures have secured a mention in the guideline. Besides, the report has also minutely detailed the necessary measures of planning and operational phase of events.
Events with large gatherings should be avoided, postponed, or should compromise on the number of attendees. Considering the risk factors, event organizers should encourage their staff and attendees to follow healthy behavior. It includes wearing masks persistently, keeping 6 feet distance, and sanitization of hands using soap and water sanitizer containing at least 60% alcohol.
Organizers also need to spread awareness by placing signs on apparent areas. And, broadcast preventative measures through multiple mediums like public address system, event websites, and social media account. Cleaning and disinfestation of the venue before and during the event and having enough supplies of masks, sanitizers, and tissue is imperative as well.