Introduction
According to eventmanagerblog, 76% of current event marketing job ads demand professionals establish the business value of events. This value means that events must meet the very objectives for which they are organized aside from great sessions and engagement. If you have been in the event industry for a while, you would have mastered the basics of event planning. Now you need to take the next step and ensure that events meet your set goals and objectives and come with meaningful returns on your investment. Here are some tips you can use to achieve this.
A general guide to live, virtual, and hybrid events
Set clear goals and objectives
Planning is essential in nearly all human endeavors. As an event industry professional, planning your events can be the difference between successful and failed events. Before proceeding to other items on your event planning list, you need to set obvious and specific goals on what you seek to achieve through the event. Your goals and objectives need to be tangible and- as much as possible- quantifiable.
Do you want to support a product launch, increase brand awareness, drive new sales, or are you organizing the event for a combination of reasons? Again, goals guide you- as all plans you make should be geared towards how the event would help you achieve them. To make your goals very specific, break them down into clear objectives. For instance, your objectives can be to:
Increase social media following by X %
Boost sales by 25%, et cetera.
Having stated your goals and objectives, create an initial plan that includes items that help meet the specific objectives. These may consist of dates or timeframe, location, and type of event.
Build your team and keep them organized
The success of your event may be largely dependent on the team you choose. Ensure division of labor, so each team member has and is accountable for a specific task. You may not need a big team for smaller events- as you can handle all or nearly all jobs yourself. However, here are some roles you should consider delegating for larger events.
A project manager who oversees the team takes reports from team members and oversees the effective implementation of all tasks.
A venue/ floor manager who is responsible for everything that has to do with the venue. Let the person be in charge of sponsors (while on-site), on-site volunteers, and other staff (ushers, photographers, security, etc.). The venue manager should know everything about the venue, location of all outlets/sessions, and name of all staff, exhibitors/speakers, and representatives of sponsors.
A scheduling manager who leads the development of the event plan ensures attendees can network with each other and ensures that sessions run smoothly and on time.
An event marketing and communications manager to ensure that the right people find and attend the event. This individual manages your offline and social media campaigns and communicates with attendees before, during, and after events to ensure their utmost satisfaction.
Hire someone or seek a volunteer to be the registration and check-in manager who can oversee the registration setup. This person would take care of the production and management of badges and ensure smooth registration and check-in.
A sponsorship manager who looks for sponsors enhances community collaborations and maps out booth spaces.
Also, remember speakers and exhibitors who are an essential part of your partnership team. Reach out to them ahead of time, and give them reminders when event day is approaching.
Choose your event venue and date.
Whether you are planning a live, hybrid, or virtual event, you need a venue. For this reason, the event venue is a very critical area in event planning. To avoid the last-minute rush for a venue, secure and prepare event venues as early as possible.
There are venues you may secure only when you book six months or earlier ahead of the event date. Securing prime venues for events during festive seasons, school holiday periods, and statutory holidays can be challenging, so plan accordingly. Planning can give you enough time to compare venues, find cheaper venues, work within your budget, and get good value for your money.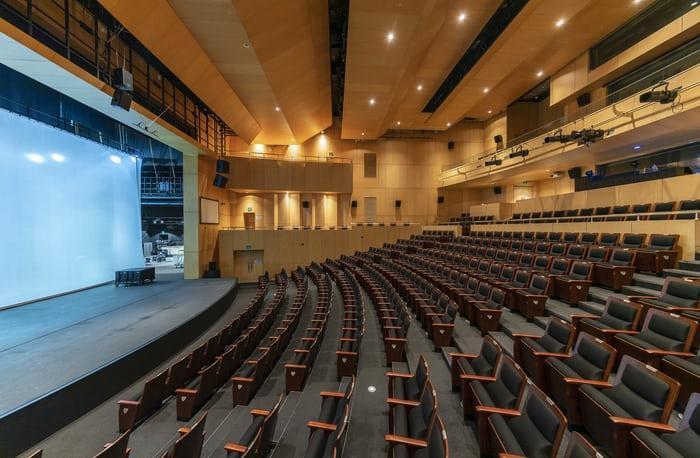 Do not forget to choose a central location with access to public transportation. Consider the safety of the area, size of venue, insurance needs, emergency response, and fire control. Also, for live events, consider if the venue would allow for physical distancing- as the current Covid-19 preventive protocols necessitate. Never base your decision for a venue on images you see on the internet or social media, as those images may be edited or may show the good and hide flaws. Always go to venues in person and do due diligence.
When you find a great venue, do not be afraid to negotiate rates. About half of planners ask for discounts, and most arrange free parking, AV (audiovisual), Or Wifi. (eventmanagerblog)
Unless the date for the event is pre-set, give yourself enough time to prepare. For small virtual events, you may need 3-6 weeks. More than half of marketers use more than six weeks to promote large virtual conferences. markletic
For live/in-person events, 4-6 months of preparation is ideal. Try to ensure that you confirm dates with critical speakers, presenters, and guests before choosing.
Do powerful branding and event marketing.
Your brand is how customers see you, not how you see your business. As such, it would help if you consciously worked to project a good image. Your brand can be affected by little things such as event name and event theme. Invest in your online presence and give your website a professional look. Use a custom email address and custom website URL. Do brand event banners and paraphernalia and ensure that event colors, logos, and typography are all built around a common theme to ensure a consistent brand image. All of these factors play a role in how seriously prospects and clients take your brand.
Another great way to have a successful event is to build a community. Consider making a hashtag for the event and keep monitoring "retweets" before and during the event. According to markletic, 60% of virtual event organizers use social media to drive significant registration.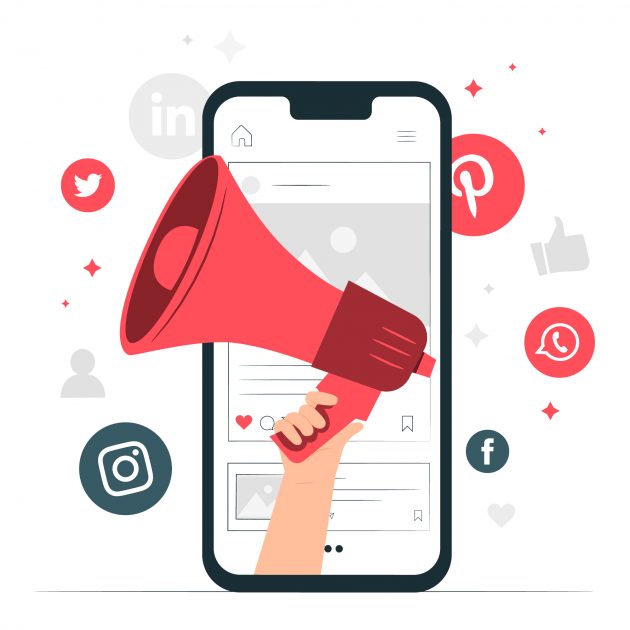 Make the most of social media, email blasts, press and media, printed materials, and announcements. Always acknowledge sponsors and partners. Finally, thank attendees, volunteers, and even staff after events. It would be wise to update them on funds raised-especially if it was a fundraising event.
Appraise your events
You need to learn something from every event. So, after events, assess them to see the areas you excelled in and areas you need to improve. You can involve attendees in this through short questionnaires. This feedback lets you see their thoughts and gain an objective insight into how well you and your team performed.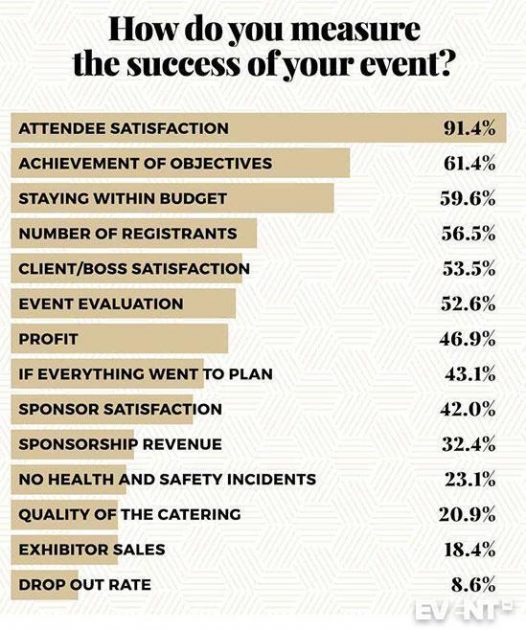 Do talk to staff to hear their opinions too. Then, measure how the event went in terms of the estimated number of attendees, budgets, and other predictions. Below are charts that show how event managers answered when asked how they measure event success.
Guide for virtual events
The following discusses how you can make virtual events engaging and successful. The images below show ways in which event organizers have engaged attendees.
Test your technology before the event
Unless an event is well sought-after, you cannot afford a 15-minute delay because of technical hitches or because people need to download software.
For this reason, you must test all technology ahead of time and be satisfied with the performance. Also, test all interactive features attendees will use during the session (live polling, chat, screen share, etc.) (hbr)
Conduct compelling event marketing
Prospective attendees know there are many other virtual events around. Why should they attend yours? After all, most virtual events get recorded. Why should they attend your live event?
You will have to turn up the charm and provide them with compelling reasons to attend your events in person. This enticement could include rewards or other lead magnets that only those who participate in person can get. As well, provide a lineup of sought-after industry experts and influencers to boost event attendance. (markletic). According to (markletic), about 67% of virtual events use external speakers.
Prioritize individual attendee engagement
We cannot deny that virtual events, especially those that contain long speeches, sometimes get abstract and boring. Even with exciting speakers, people may unintentionally sleep while relaxing on their beds or sofa at home. According to markletic, audience engagement is the most significant problem when it comes to virtual events. The next biggest challenge is interaction.
To combat this, you need to make virtual events feel real by getting attendees involved. Encourage comments, live polls, and more. You can reward attendees who contribute. If possible, get influencers to endorse the event during marketing campaigns to create a sense of eagerness in attendees and grab their attention throughout the promotion period. According to influencermarketinghub , 92% of marketers consider influencer marketing an effective form of marketing, and 82% believe that the quality of customers from influencer marketing campaigns is better than from other forms of marketing.
Make presentations and sessions punchy and avoid excessive information. (markletic)
Offer short presentations and frequent comfort breaks
Even with the most exciting and sought-after industry experts presenting, it is advisable you keep presentations short. Remember, unlike live events, attendees can leave virtual events with just a click so do not take chances. Interspersing events with a few breaks would do you a lot of good. This helps attendees retain much information. (markletic)
Conclusion
It is possible to run great and highly successful virtual and in-person events. However, proper planning gets half of the job done. Devote time to plan effectively for all your events, make sure you engage attendees throughout events, and appraise events when you are done to ensure continuous improvement.