September is a month of new beginnings. Students are back to school. Summer has ended and we welcome the cool breeze of autumn. If you count the post-summer resolutions, some of us may even have new projects and goals to work on. At Eventscase, we have welcomed September through a series of celebrations and events—two of our favourite themes. Let's find out more through this monthly recap…
10th Anniversary of Eventscase
On September 19th, we celebrated our 10th anniversary as a company. What started as an idea for an event search engine eventually led to the inception of the all-in-one software we know today. These 10 years have allowed us to be part of the growth of the events industry and also to be by its side during uncertain times. Now that it is flourishing again, we are ready to offer a 360° solution to event organisers regardless of the event format.
We have prepared a short video that captures the most important milestones of Eventscase as a company. This is just a brief summary of what we consider to be a collective success—one that is attributable to the entire Eventscase team and, of course, to all of you, whether you are our clients or not. Without you, none of this would make any sense! Thank you, and here's to another 10 years!
Q3 'What's Up' Eventscase event
As previously announced, we held the third 'What's Up' event on Wednesday, September 21st. Sam García and Jon Tupper revealed to our English-speaking audience the ins-and-outs of new developments that we have undertaken in July and August. They have delved into platform features that cover fundamental aspects in event management such as:
Networking
Integration between Eventscase and other external platforms
Improvements to the Digital Venue through personalised content and a revamped navigation menu. This point is quite important so we will dedicate a specific section to it in this post.
Below is a short video summary of the event.
Just a reminder that registration for the fourth and last 'What's Up' event of the year is now open. You can register here and, as always, we look forward to seeing you!
After studying the previous design of the Digital Venue, we realised that there were two clearly-differentiated groups in terms of its navigation. We anchored the improved design based on this analysis.
The navigation menus are now separated from the main content blocks and are now floating on both sides of the screen. The left-side menu covers the main pages of the Digital Venue such as the homepage, agenda and exhibitors. On the right-side menu are the secondary options related to account management, networking, and live interaction. This simplified the interface and would now make all the difference in terms of a smoother attendee user experience.
You may now also further customise the design of the Digital Venue by changing the colours of the background, topbar, and sidebars. We believe that this change will give you the opportunity to highlight your brand even more and make the entire page look more eye-catching.
In the following image, we can appreciate the before-and-after. You can send us your feedback related to this improvement by emailing us at comms@eventscase.com. We will in turn relay your feedback to our product team.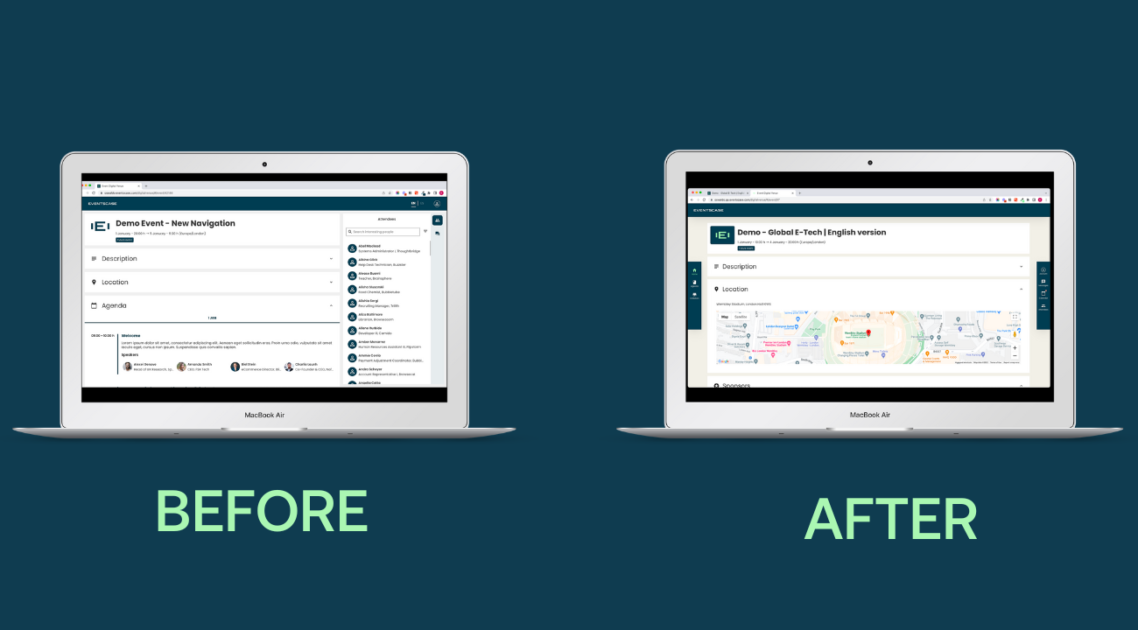 Eventscase present at major industry events
As we alluded at the beginning of this post, we love events! We have joined two important events this September and have two more coming up in October.
Alex Barbero, our Sales Director for Spain, is going to earn the honorary title of "Employee of the Month" as he will be present at three of the four said events.
The 'eventoplus Awards' highlights top performers in the events and meetings sector in Spain and Portugal. The 17th edition of the 'eventoplus Awards' gala was held on September 20th. Alex Barbero was able to witness the joy of winners and finalists, which included several of our clients at Eventscase. Congratulations once again!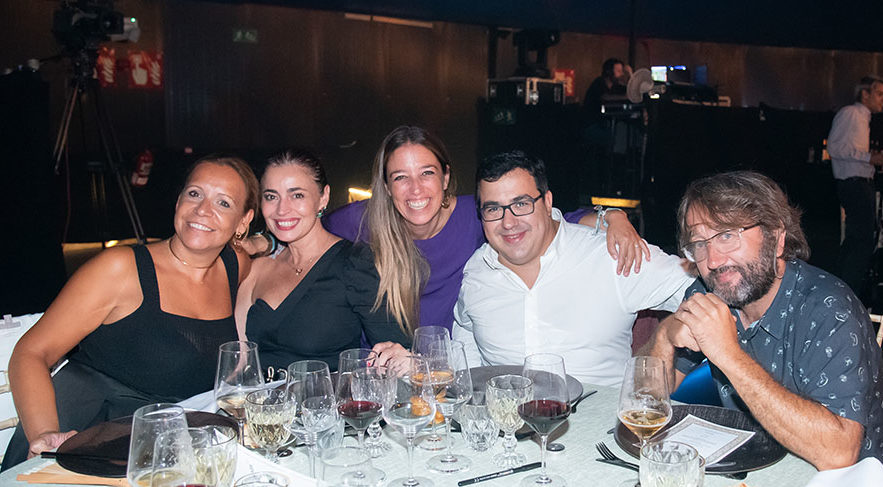 On Wednesday the 28th, the first face-to-face networking event of the new season took place at the Princesa Hotel in Madrid. It was organised by the MICE Forum, which brings together several events associations in Spain.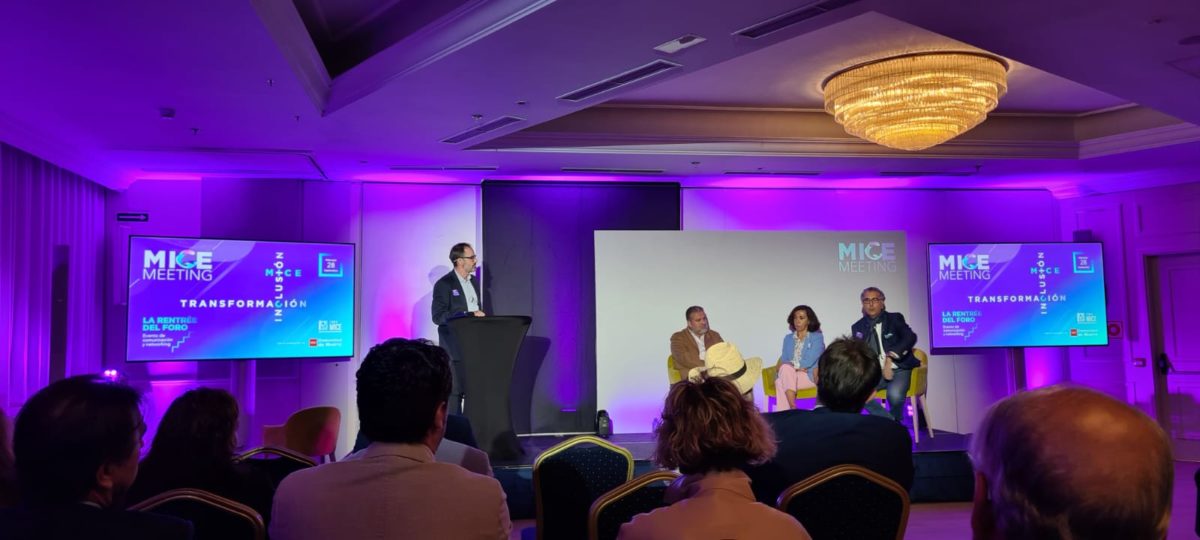 I Agora of Sustainable Tourism GREEN & HUMAN – HOSTELTUR 
This event, which actually uses Eventscase as its technology platform, will take place in Barcelona on October 5th at the World Trade Center. It is a meeting point and forum to reflect on sustainable tourism and the different transformations that we can expect in this specific segment of the events industry.
Meanwhile, in the UK, our MD Jon Tupper will be attending the 'Event Organisers Summit' on October 17th and 18th. This highly-focused summit brings together meetings and events professionals along with the industry's leading solution providers. The summit is made up of one-to-one business meetings, interactive seminars and valuable networking opportunities spread over two days. In addition, Jon will have the opportunity to deliver a keynote address on sustainability for hybrid events.
Renewed sponsorships
To end this review of current events, we can't help but announce the privilege of renewing our sponsorship agreements with two of our most beloved partners: the 'Spanish Chamber of Commerce in the UK' and the most important community for event professionals in the UK, 'The Delegate Wranglers.' Thank you very much for your trust in Eventscase and we look forward to many more years of working together.